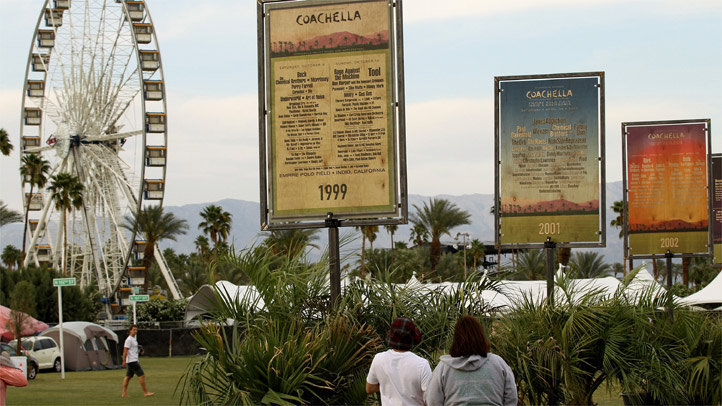 It looks like even a dose of severe weather can't stop the party in Southern California.
Full Coverage: Southland Pounded by Spring Storm | Storm Knocks Out Power to Thousands
As of late Friday, plans were moving forward for two major events this weekend: the Coachella music festival in the Inland Empire and the Long Beach Grand Prix.
Local
Local news from across Southern California
CicLAvia was going ahead, too. The Sunday event where cyclists and pedestrians take over 10 miles of Los Angeles city streets from East Hollywood to Boyle Heights will be held regardless of the weather.
"It's rain or shine," said Aaron Paley, the event's producer.
A cold Pacific storm hit the area early Friday, and forecasters are predicting more rain, thunderstorms, high winds and surf, along with snowfall in the San Gabriel Mountains.
If you're heading out, bring a poncho. If you're camping at Coachella, let's hope you have waterproof gear. If you're a race car driver, get those rain tires on.
And if you're a skier or a snowboarder, get ready for some winter sports in spring. Between 8 and 14 inches of snow is expected at elevations above 5,500 feet, and the snow level is set to fall to 3,500 feet by Friday night.
As for local resorts, Snow Summit will stay open until at least Sunday, while Bear Mountain and Mountain High remain closed. Mountain High may reopen if it receives 10 to 12 inches of snow.
A winter storm warning indicating an expectation of heavy snow and hazardous conditions will be in effect in the Los Angeles and Ventura county portions of the San Gabriel mountains until 3 a.m. Saturday. Winds are expected to howl through the mountains at 25 to 35 mph, with gusts of up to 55 mph.
If you're heading for the beach, be careful and avoid standing on rocks or jetties near the water's edge. The National Weather Service in Oxnard issued a high surf advisory from 5 p.m. Friday to 5 p.m. Sunday. Surf is set to build to 8 to 10 feet, with sets of up to 15 feet Saturday. The biggest waves will be seen along west- to northwest-facing beaches.
Forecasters are also looking out for waterspouts – tornadoes over the ocean.
"That's a general concern that we have, but we haven't seen anything specifically yet. It's general overall possibility," said National Weather Service meteorologist David Sweet in Oxnard.
At the Coachella music festival in Indio, rain was expected before noon Friday and will continue off and on for 24 to 36 hours, a National Weather Service forecaster in San Diego said. The festival begins Friday and continues through Sunday, then reopens for the weekend of April 20 through 22.
Follow NBCLA for the latest LA news, events and entertainment: iPhone/iPad App | Facebook | Twitter | Google+ | Instagram | RSS | Text Alerts | Email Alerts