Two men who police say were part of a Latino gang that was trying to drive out black residents from South Los Angeles pleaded not guilty to federal hate crimes charges, the U.S. Attorney's Office said Friday.
The Compton men, who were arrested in January, had been indicted by a federal grand jury on federal hate crime charges related to a New Year's Eve attack on four African-American juveniles.
Both men were ordered to be held without bond after they pleaded not guilty to the charges.
"Hate-fueled crimes have no place in our society," said U.S. Attorney Andre Birotte Jr. in his press release announcing the indictment. "No one should have to look over their shoulder in fear because of who they are."
Compton Unites Against Hate Crimes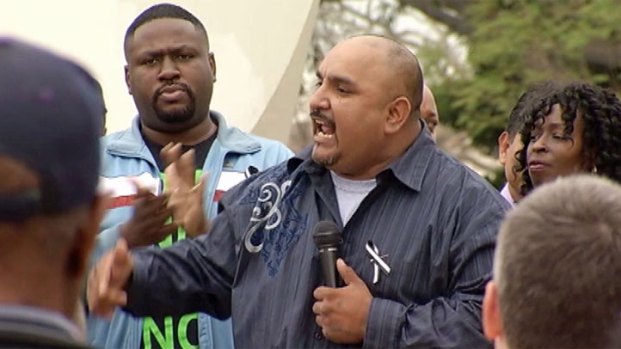 COURT DOCUMENTS: Read the Indictment
The case shocked residents who held a "Rally Against Hate Crimes" Feb. 2 to call for an end to violence in their neighborhood.
Residents, authorities and community leaders of Compton gathered at the Compton Courthouse for the rally and labeled the local hate crimes as "terrorism."
LA Sheriff's Investigating Compton Hate Crimes
"We live together, shop together and worship together, and we need to build up our community together," said Diana Sanchez, president of the Community United for Compton, during the rally.
Two men who authorities said were part of a Latino gang called Compton 155 intimidated African-Americans to try to force them to leave the gang's "territory" of Compton, according to the indictment.
The indictment alleges the attack on Dec. 31, 2012, involved the two Mexican-American gang members threatening a 17-year-old African-American, following the victim to his girlfriend's home -- where three other juveniles were present, yelling racial slurs and demanding they leave the neighborhood.
The two men allegedly assaulted the 17-year-old victim with a metal pipe and threatened another juvenile with a gun. Shortly after, 15 other gang members went to the residence, yelled racial slurs and smashed one of the windows of the house, according to the indictment.
Members of the Compton 155 gang often refer to themselves as "NK," or "N---- Killers," and tag the gang moniker and "NK" throughout parts of Compton, officials said.
The indictment also alleges the Compton 155 gang members have committed crimes ranging from battery to murder, drug and weapons trafficking, robbery and burglary.
They have used "C.O.M.P.T.O.N." as an acronym for the phrase "City of Mexicans Pulling Triggers on N-----s," according to the indictment.
Jeffrey "Terko" Aguilar, 19, and Efren "Stretch" Marquez Jr., 21 were charged with one count of conspiracy to interfere with housing rights and four counts of interfering with housing rights.
"The Justice Department will not tolerate those individuals or gangs who would prevent a family from living in a particular neighborhood simply because of their race or color of their skin," said Thomas E. Perez, Assistant Attorney General for the Civil Rights Division of the Department of Justice.
If convicted, the men face up to 10 years in prison for each of the five civil rights charges in the indictment.
A trial date has not yet been set.