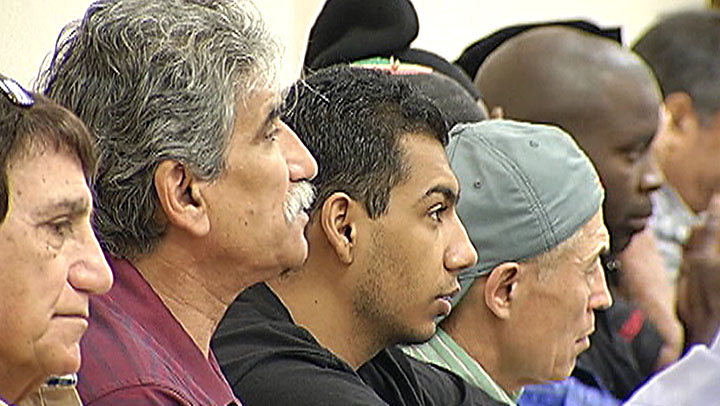 Muslim and Coptic Christian leaders are condemning the violence -- including the deadly siege of the U.S. Embassy in Benghazi -- that was sparked by a film associated with a self-described Coptic Christian that denigrates the Prophet Muhammad.
Dr. Maher Hathout, an Egyptian born physician and senior adviser to the Muslim Public Affairs Council, and Bishop Serapion, the head of the Coptic Orthodox Church in Los Angeles, are expected denounce the film, "Innocence of Muslims" at an 11 a.m. press conference Monday at Los Angeles City Hall.
"We're standing together and we're not going let this divide us," said Marium Mohiuddin, a spokeswoman for the Muslim Public Affairs Council.
Local
Local news from across Southern California
This is the first public coming together between these groups, Mohiuddin said.
The news comes as the Cerritos-based filmmaker behind the anti-Muslim film called "Innocence of Muslims" that sparked deadly riots in Libya and set off a wave of violent anti-American protests across the Middle East went into hiding on Sunday.
Nakoula Basseley Nakoula, 55, a convicted bank fraudster, left after being questioned by his federal parole officer at a sheriff's station. He is a self-described Coptic Christian.
The State Department issued new travel warnings for Americans traveling to Sudan and Tunisia after anti-American riots broke out there.
Similar advisories were issued a few days ago for Libya and Algeria.
The State Department has also ordered home all State Department employee dependents and non-essential personnel from Sudan and Libya.
Nakoula, who has been identified as one of the makers of the film "Innocence of Muslims," was escorted from his home just after midnight on Saturday by deputies who took him to the Cerritos Station for questioning by his probation officer, sheriff's officials said.
Federal probation officials in Los Angeles are investigating if Nakoula violated his probation stemming from his bank fraud conviction, authorities said Friday.
Nakoula wore a hat and scarf over his head and face as he walked with deputies from his house.
Nakoula reportedly is in hiding because he is afraid for his life.
Nakoula also reportedly hired Hawthorne attorney Steven Seiden to represent him. A message left for Seiden was not immediately returned.
According to California Bar Association records, Seiden's license was suspended in 1992 from Sept. 4 to Dec. 2, for an undisclosed violation.
The story behind Nakoula and his film-making is still murky.
A number of media outlets have reported that Nakoula allegedly used several aliases during his movie-making, including "Sam Bassiel, Sam Bassil" and "Sam Bacile."
He apparently is an Egyptian-American and Coptic Christian, according to several radical Christian groups who claimed they were involved with the production or eventual distribution of the movie.
Meanwhile, the L.A. Weekly, the New York Daily News and other publications are reporting that the director of the anti-Muslim film that has sparked protests and attacks in 20 Muslim countries and Australia was 65-year-old Alan Roberts, a soft-core porn filmmaker who made a string of low budget, porn movies in the 1970s and 1980s that included the "Happy Hooker" series of films, such as "The Happy Hooker Goes Hollywood."
The news about Roberts first appeared the website Gawker.
Gawker published its interview with cast and crew members on the Muslim film shoot and reviewed call sheets from the 14-minute production listing Roberts as the director. The original name of the film was "Desert Warrior."
The Los Angeles Times has reported that the name Alan Roberts appears to be an alias for a Robert Alan Brownell of Canyon Lake in Riverside County.
Nakoula pleaded no contest in 2010 to charges in Los Angeles federal court, papers show. He was sentenced by U.S. District Court Judge Christine A. Snyder to 21 months in federal prison and ordered not to use computers or the Internet for five years without prior authorization or to get someone else to use them on his behalf.
He also was ordered to pay about $790,000 in restitution.
According to the federal Bureau of Prisons, Nakoula was released from federal custody on June 22, 2011.
Karen Redmond, a spokeswoman for the administrative office of the U.S. Courts in Washington, D.C., said the federal probation department in Los Angeles is "reviewing" Nakoula's activities to determine if he violated the terms of his probation.
If so, he could be sent back to prison. Nakoula was accused of opening bank and credit card accounts using phony Social Security numbers.
The 13-minute "Innocence of Muslims" video, which was posted on YouTube, portrays the Muslim Prophet Muhammad engaged in apparently crude behavior. Such depictions of the prophet are considered blasphemous by many Muslims.
Protests played a role in mob violence in Libya in which U.S. Ambassador Chris Stevens and three other Americans, including two former Navy SEALS from San Diego County, were killed on the anniversary of 9/11.
The U.S. ambassador to the United Nations said Sunday the assault was a spontaneous reaction to the "Innocence of Muslims" video, even as Libya's president insisted the attackers spent months preparing and carefully choosing their date.
Unrest spread Friday into Nigeria, Sudan and Tunisia. Riots have also occurred in Egypt and Yemen.
The former SEALS were mourned by President Barack Obama Friday for laying down their lives while protecting their friends.
Glen Doherty, 42, of Encinitas, and Tyrone Woods, 41, of Imperial Beach, were killed Tuesday along with Stevens and Sean Smith, an information technology specialist, when an armed force attacked the consulate compound in Benghazi.
At a ceremony where their remains were returned to U.S. soil at Joint Base Andrews -- the former Andrews Air Force Base outside Washington, D.C. -- Obama and U.S. Secretary of State Hilary Clinton praised the men in front of their families and federal personnel.
Follow NBCLA for the latest LA news, events and entertainment: iPhone/iPad App | Facebook | Twitter | Google+ | Instagram | RSS | Text Alerts | Email Alerts
Copyright AP - Associated Press