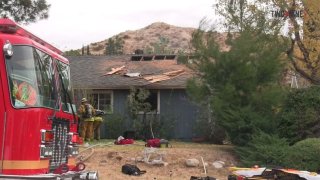 Officials Wednesday released the name of a woman who died in a fire at her Santa Clarita-area house that also took the life of her husband.
Firefighters sent to 28968 Flowerpark Drive about 11:40 a.m. Saturday extinguished the flames in about 30 minutes, according to the Los Angeles County Fire Department.
Marjorie Halio, 74, died at the scene and Bernard Halio, 82, died at a hospital, according to the coroner's office.
The cause of their deaths was listed by the coroner's office as "thermal burns and smoke inhalation," and their deaths have been classified as accidental.
Copyright C