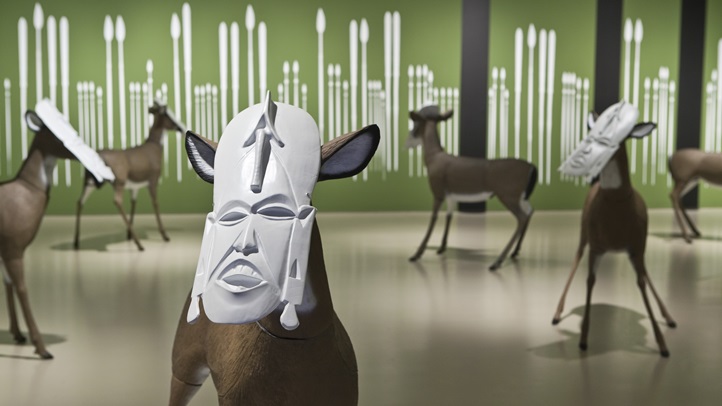 While the autumntime, and Halloween and its attending parties in particular, is very much about the concept of masquerade and costuming and different identities, the concept of the mask isn't simply something that pops up each October as part of the larger holiday.
It's as epic and old as the epochs themselves, but still at play today around the world in myths and local legends and dreams. Twelve contemporary artists have examined those venerable symbols and their meanings, but through a modern prism, in the new exhibit "Disguise: Masks & Global African Art" at the Fowler Museum at UCLA.
Local
Local news from across Southern California
The show, which spotlights six visionaries from Africa, and an equal number of Americans of African heritage, doesn't solely go to the established ways of mask-making found in places throughout the planet, the sort of masks we've seen in museums numerous times before.
Rather, the innovators pursue modern takes on maskery, and that innovation is at the heart of the exhibit. It's a story-filled show full of masks, yes, but also the notion of masks and the roles they fill.
"Country Ball 1989-2012" by Jacolby Satterwhite includes HD digital video with color 3-D animation and sound to reveal a layered look at facades and fantasy, while other pieces incorporate "drawing, photography, video" as well as "performance and installation."
Masks will be seen, but perhaps not in the forms the museum goer expected. But such is the nature of disguise and, ultimately, the interesting journey that a disguise provides the wearer. "These works reveal social, political, and cultural issues through the exploration of traditional African masquerade," says the Fowler.
See these beautiful and thought-provoking works at the Westwood-based institution through Wednesday, March 16. Admission is free.
Top image: Neo Primitivism 2, 2007—14, Brendan Fernandes, Kenya/Canada, b. 1979, installation with plastic masks, deer decoys, and vinyl spears, dimensions variable, loan from the artist. © Brendan Fernandes, Photo courtesy of the artist.
Bottom image: From Hiz Hands, 2010, Brendan Fernandes, Kenya/Canada, b. 1979, 3 neon-on-glass-frame signs, loan from the artist. © Brendan Fernandes, Photo courtesy of the artist.
Copyright FREEL - NBC Local Media