Declan Riddle finally got to meet his hero.
You might remember this adorable two-year-old who went viral back in March after his favorite player, Los Angeles Dodgers third baseman Justin Turner, fractured his right wrist and went on the disabled list.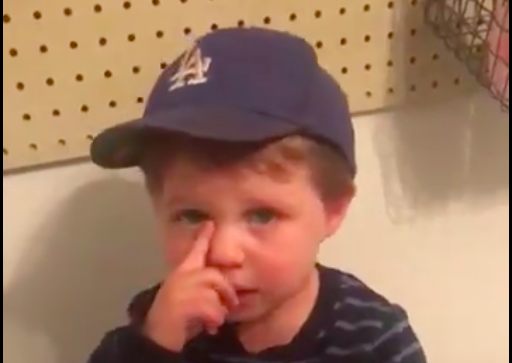 Riddle's father, Andrew, is a diehard Dodger fan and he posted a video of Declan shortly after the injury explaining to his son that Turner was hurt and going to miss a lot of games.
"Justin Turner got hurt," said the concerned child. "I have to kiss his boo-boo."
The cute, 27-second video can be seen below, and immediately went viral as it was viewed over 335,000 times. Multiple outlets picked it up, including our very own NBC LA.
After watching the video, Turner tweeted his appreciation to little Declan and offered him and his father two tickets to a Dodger game upon his return from the disabled list.
Ordinarily, it might end there. Turner with a nice gesture and a public showing of support and gratitude via Twitter, not something that he would actually make come to fruition, right?
Local
Get Los Angeles's latest local news on crime, entertainment, weather, schools, COVID, cost of living and more. Here's your go-to source for today's LA news.
This is Justin Turner we're talking about. A man who is not just a great player, but an even better human being.
Turner's charitable work is heralded across the sports landscape as an example of empathy and kindness. Through his foundation, Turner supports homeless veterans, and sick children and their families as they battle through life-altering illnesses and diseases.
Turner has helped build homes for veterans and provided over 10,000 toys, and 2,000 bicycles to children in the Los Angeles area.
As someone who knows Turner well, when he's not on the diamond, you can find him in a children's hospital cheering up kids who are battling illnesses that only pale in comparison to our everyday struggles.
In fact, after dozens of Dodger supporters known as Pantone 294 assembled during the All-Star Final Vote last summer to vote for Turner around the clock for three straight days, the third baseman surprised them on an off day in Miami on a yacht to thank them for their efforts.
So it should come as no surprise that nearly two months after he broke his wrist, Turner was true to his word, and tweeted at Declan and his father from the Nation's Capital after a day-game against the Washington Nationals last Sunday.
Turner had just returned to the Dodgers lineup after missing the first 40 games of the season, and promised the Riddle family tickets and field passes for his first home game at Dodger Stadium on Monday.
Of course Andrew's family cancelled their plans and jumped at the chance to come to the game immediately.
Declan and his family arrived to the stadium early on Monday in time for batting practice and got to hang out on the field where they met some of the Dodgers players and coaches.
Andrew even got to meet one of his favorite players from when he was a kid, former Dodger third baseman Ron Cey.
After what felt like hours of waiting, Declan finally was introduced to his hero and favorite player, even showing him his Clayton Kershaw impression.
On the field, Turner's impact has been felt immediately as the Dodgers have won six of their last seven games with the man they call "JT" guiding the ship.
Off the field, Turner continues to prove why he is an even better person than a player.
Here are the highlights of Declan's day at Dodger Stadium.