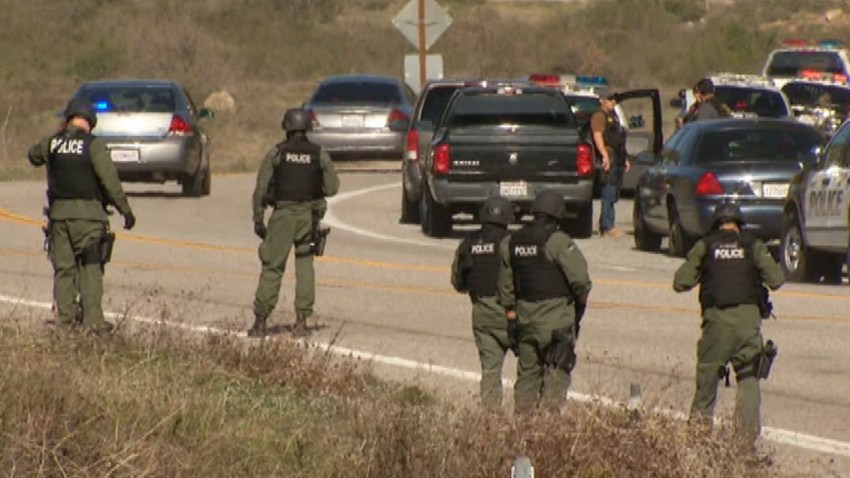 Fugitive ex-LAPD officer Christopher Dorner, whose alleged murder spree began with the shooting death of the daughter of a police union lawyer who defended him in an internal investigation, re-surfaced Tuesday in a stolen white pickup truck in the San Bernardino Mountains.
As the manhunt appeared to reach a crisis point - with two law enforcement officers dead and flames leaping from a cabin where Dorner had holed up in the woods - we take a look at the numbers in the case so far.
Complete Coverage: Manifesto for Murder | Timeline: Revenge-Plot Slayings | Read: Full Manifesto | Map: LAPD Manhunt
Local
Local news from across Southern California
11: Days that have passed since the manhunt for Dorner began, starting with a shooting of Monica Quan and Keith Lawrence in Irvine on Super Bowl Sunday, Feb. 2, and ending Tuesday, as he was barricaded in a cabin in the mountains.
4: People police believe to have been killed by Dorner, including a San Bernardino sheriff's deputy who perished after a gunfight on Tuesday, and Michael Crain, a Riverside police officer shot at a traffic stop.
2: Officers believed to have been injured by Dorner, as of Tuesday.
11,400: Number of words in a manifesto that Dorner published on line, threatening LAPD officers and their families, and alleging racism, brutality and corruption.
6,794: Number of Facebook fans who had pledged support for Dorner by "liking" and commenting on his page by Feb. 12. One said Dorner was "A MAN WITH MORALS AND A HERO."
250: Number of tips phoned in to the LAPD before a reward was posted for Dorner's capture.
1045: Number of tips that came pouring in after a $1 million reward was offered on Feb. 10.
200,000: Extra dollars added to the reward money Feb. 12 by the Los Angeles County Board of Supervisors and the Los Angeles City Council.
85,000,000: Dollars estimated by the website LA Observed to have been spent for overtime for LAPD officers even before the manhunt intensified on Tuesday.
500: Number of rounds exchanged between officials and a man believed to be Dorner on Tuesday.