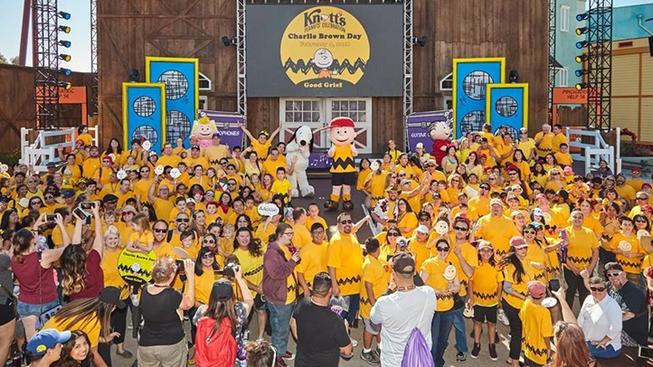 What to Know
Knott's Berry Farm
Sunday, Feb. 3 at 1 p.m. (Calico Mine stage is the photo location)
Admission required
What's a collection of Charlie Browns called?
A good grief? A zigzag? An aaugh!?
It's true that one of the comic page's most iconic kids may seem like he shoulders the weight of the world, but he also has a zany side, a side that can be sweet, an innocent element that will always spur him to try and kick Lucy's football.
Local
Local news from across Southern California
So let's call a group of many Charlie Browns "a hope," and let's hope that lots of people dressed as the beloved Charles Schulz-created character visit Knott's Berry Farm on Sunday, Feb. 3.
For the "Largest Gathering of Charlie Browns," as in, those visitors who don the famous zigzag shirt and shorts usually worn by the character, will once again pose for a memorable snapshot.
Want to wear a baseball cap, too? That's part of Charlie Brown's style, so sure. Go for it.
Just be at the Calico Mine stage at 1 p.m. on Sunday, Feb. 3 with the other Charlie Browns. And if the 2018 record is beaten, for most Charlie Browns, you can count on over 150 people showing up in their Charlie-Brown-iest attire.
This is all happening during the Buena Park theme park's annual PEANUTS Celebration, a weekends-only festivity that features a host of happy events inspired by the world o' Linus, Franklin, Sally, and Snoopy.
So you can bet a lot of Peanuts people will be at Knott's on Charlie Brown Day, in addition to all of your co-Charlie Browns.
And one more cool thing? If you're dressed as Charlie Brown on Feb. 3, you'll score 20% off of "all Peanuts Celebration food items." No aaughs! here; that's pretty nifty.
And downloading the big group pic, via FunPix, is also part of the fun.
How to join? Your admission or pass to Knott's gets you into the photo. And, of course, your super-stylin' Charlie Brown fashion vibe.
Copyright FREEL - NBC Local Media