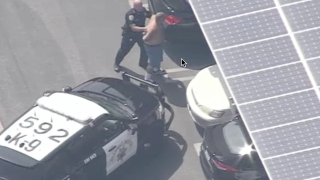 The driver behind the wheel of a possibly stolen vehicle eventually pulled over in El Monte after leading a winding pursuit throughout Los Angeles County Wednesday afternoon.
The Los Angeles County sheriff's Department began pursuing the white sedan heading westbound on the 10 Freeway Wednesday afternoon as the driver headed into downtown Los Angeles.
The Department's Temple Station was pursuing the vehicle before the California Highway Patrol and other agencies jumped in, as the driver criss-crossed into different jurisdictions.
The driver, reportedly wanted for parolee violations, was speeding down residential streets in the San Gabriel Valley at 3 p.m.
Eventually the driver pulled into a Von's Credit Union parking lot and under an awning in El Monte.
An officer pulled up behind him, and with weapon drawn, took the driver into custody at the lot at Arden Drive and Marsen Street.