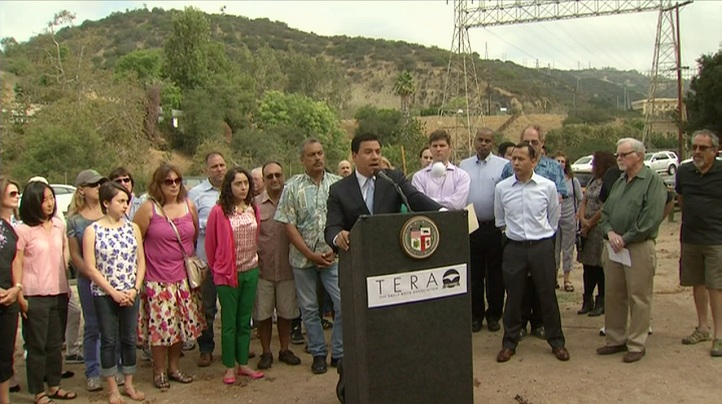 The proposal to increase the size of Glendale's 535-acre Scholl Canyon dump has created quite the stink in the nearby Los Angeles community of Eagle Rock.
Residents and city officials spoke out Wednesday in Eagle Rock against the proposal, citing the negative impact that the landfill's expansion would have on the community.
Glendale's plan would extend the life of the landfill by more than 10 years and increase the amount of refuse dumped at the landfill by up to 8 million tons. At the rate listed by Glendale officials, the facility is scheduled to be closed in 2021.
Local
Local news from across Southern California
Community members are up in arms because while the landfill is operated by the city of Glendale, access routes into the location all run through Eagle Rock, which has been barred from using the dump since 1987.
"We have had a raw deal for the city of Los Angeles for many, many years." Los Angeles City Councilman Jose Huizar said. "We live with the air pollution, we live with the noise, we live with the impact to our streets, yet we are not allowed to use the landfill."
Huizar, whose district includes Eagle Rock, submitted an official letter against the proposal which points out issues in the draft Environmental Impact Report (EIR) being circulated for public comment.
The Glendale City Council has to sign off the proposal before it moves forward.
David Greene, president of the Eagle Rock neighborhood council, said the EIR fails to consider the citizens of Eagle Rock, instead centering on Glendale's own financial loss.
"In the EIR, Glendale claims that if Scholl Canyon closes it will cost their former customers more to haul garbage to dumps far away from populated areas," Greene said. "That is not an environmental argument, that's a sales pitch."
Glendale city officials did not respond to requests for comment by time of publication.
The public comment period for the report lasts until Aug. 29.
John Cádiz Klemack contributed to this report.