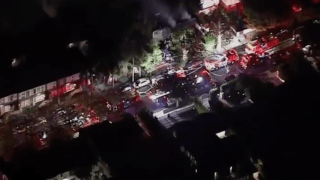 Firefighters battled an apartment fire early Friday in the Hollywood Hills.
Residents were evacuated from the building in the 1700 block of North Courtney Avenue, located north of Hollywood Boulevard, after the fire started around 5 a.m.
Flames continued to shoot from a spot in the back of the three-story building at 6 a.m.
"Excessive storage both exterior and interior are hampering firefighters ability to access the remaining areas with fire,'' the LAFD's Margaret Stewart said in a statement. "Fire crews prevented the fire from damaging any exposed buildings."
No serious injuries were reported. Details about a cause were not immediately available.