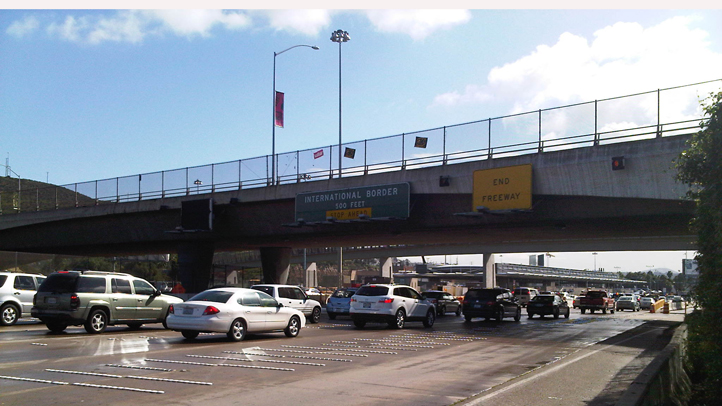 The ongoing statewide manhunt for fugitive and former LAPD Officer Christopher Dorner caused some traffic issues this week at California-Mexico border checkpoints.
At the San Ysidro port of entry, traffic was snarled for hours Friday as agents searched for Dorner in vehicles passing through the checkpoint.
Border Patrol agents peered into cars and buses looking for the ex-officer who wanted in connection with the Feb. 3 slayings of Monica Quan, 28, and her fiancé Keith Lawrence, 27, in Irvine.
Local
Local news from across Southern California
Dorner is also the suspect in the shooting death of an unidentified Riverside police officer. The fugitive is believed to have shot and injured two other LAPD officers Thursday.
While border traffic eventually cleared Friday, agents will likely continue conducting searches throughout the weekend meaning more slow traffic at border checkpoints may persist.
On Saturday, border agents across San Diego County checkpoints were advised to continue being vigilant.
Early in the day, CHP officials reported that only two traffic lanes were open on southbound Interstate 5 at the U.S.-Mexico border. Officers in body armor could be seen at the crossing.
The U.S. Customs and Border Protection issued a statement to NBC 7 Saturday afternoon in regards to the manhunt for Dorner and border wait times.
"Customs and Border Protection officers and agents from the Office of Field Operations, the U.S. Border Patrol and the Office of Air and Marine are providing assistance in the search as requested from law enforcement authorities," the statement read. "CBP is also exercising additional vigilance in southbound inspections in Southern California. As a result, travelers heading southbound into Mexico may experience delays."
Dorner's alleged violent crime spree across Southern California is thought to be part of a series of revenge killings he outlined in a now-infamous manifesto he posted on his Facebook page.
Dorner's burned-out Nissan Titan was discovered in Big Bear Thursday, but police were unable to locate Dorner.
The search in Big Bear continued Friday until snowfall and harsh weather conditions stalled efforts. The manhunt resumed at daybreak Saturday.
Meanwhile, in San Diego, a so-called "vehicle of interest" was examined and processed for evidence at the Poway Sheriff's Substation Thursday night. Police believe Dorner may have stolen the license plates off this car sometime during his spree. It is unclear how this vehicle connected to Dorner ended up in Poway.
On Friday, California law enforcement remained on edge, keeping their eyes peeled for Dorner.
At one point, officials thought Dorner might be looking to flee to Mexico after he allegedly attempted to steal a yacht from a man in San Diego.