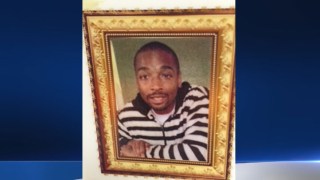 The parents of an unarmed, mentally ill man shot and killed by Los Angeles police in South LA have filed a wrongful death suit against the city, the LAPD and the two officers, saying the officers intentionally shot the 25-year-old even though he was "posing no threat to anyone."
Edsell and Tritobia Ford say their son, Ezell, was killed despite complying with officers by lying on the ground at their request.
Their lawsuit, filed Friday in state court, seeks damages for wrongful death, civil rights violations and negligence by the department. They have already filed a federal civil rights suit over his death.
Ford, 25, was shot Aug. 11 when LAPD Officers Sharlton Wampler and Antonio Villegas confronted Ford, who police said was making "suspicious movements" when he turned and "grabbed one of the officers."
But his family says in their lawsuit, filed in state court Friday, that Ford was "posing no threat to anyone, nor breaking any law, and had complied with orders" by Villegas and Wampler "to lie on the ground." The two officers "intentionally and/or negligently fatally shot unarmed" Ford, the suit charges.
Ford's family has said before that he was mentally ill and was harmless, and a family friend has said she witnessed the confrontation and didn't see Ford struggle.
His parents' new suit also accuses Wampler and Villegas of violating civil rights laws and of "prejudice, disdain and contempt for African Americans or persons of black skin tone." It accuses them of having "intentionally engaged in the use of excessive and deadly force," motivated by the fact that Ford was black.
The LAPD declined to comment Monday to NBC4 regarding the lawsuit.
Ford's autopsy report, released in December 2014, showed Ford died in the operating room after being shot three times. One of the three, a nonfatal shot, struck Ford in the right arm. The two fatal shots struck him in the lower right side and the right back.
The fatal wound to the back had a muzzle imprint surrounding the entrance, the report showed, indicating the shot was fired at very close range.
The family's attorney Steven Lerman earlier accused the police officers of "almost animalistic" brutality.
"They went after him in a way that was almost animalistic, and it's just terrible to see how this has rolled out. But the shot to the back does not surprise me," Lerman said.
His family late last year filed a federal civil rights lawsuit against the department and the two officers who shot him. They also filed a $75 million claim — a precursor to a state lawsuit — against the city.