Grieving families gathered Sunday at the site where two people died after colliding with a sheriff's deputy's patrol car the day before.
Sara Paynter, 20, and her boyfriend, Robert Delgadillo, 30, were in the backseat of a Ford Explorer on Saturday when the driver of the SUV crashed with a sheriff's patrol car in Palmdale, officials said.
Two people in the front of the SUV were hurt but survived, and the deputy was treated for minor injuries. Officials have not said who is at fault in the crash.
Local
Local news from across Southern California
Two Killed, Deputy Hurt in Patrol Car Crash
"Robert gave my mom a kiss and they never came back," said Delgadillo's sister, Rosa Hernandez.
The collision between the patrol car and Ford Explorer happened about 4:30 p.m. Saturday near 17th Street East and Avenue R in Palmdale, according to the California Highway Patrol
Delgadillo and Paynter were ejected from the SUV after it spun out of control. They died immediately.
"I was going to cook dinner and she was gone," Paynter's sister Rebecca said. "She was my everything, and now she's gone and I can't see her again."
Rebecca said her sister lived in Van Nuys and traveled to Palmdale to visit her for an especially emotional reason.
"We were going to buy her a ring today, and (Delgadillo) was going to propose on Christmas Eve," Rebecca said. "I want my sister home."
LA Sheriff's Deputy Patrol Car Strikes, Kills Bicyclist
While the family members mourn the loss of their loved ones, the two survivors of the crash spoke out.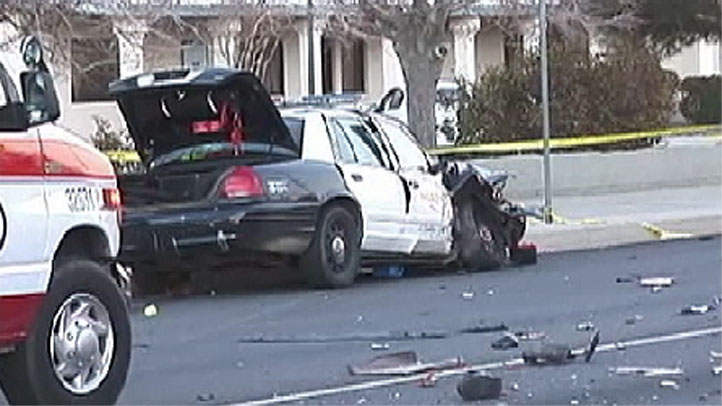 "Me, as a passenger, I looked to both sides. I didn't see a cop car," the SUV passenger said, who did not want to be identified. He said he hurt his leg in the crash, and that the driver is at home recovering with a neck injury.
Video from the scene showed the patrol car on the side of the road with a smashed front end. A tan Ford Explorer could be seen with damage also on the front end.
Officials said the deputy was not driving with his sirens on, and they do not know if he was responding to a call.
Driver Shot, Killed After Hour-Long Pursuit is ID'd
Families were at the scene of the crash Saturday night, screaming and crying in shock.
"My daughter is dead, she is dead," Sara's father could be seen screaming. "That is not ok."
Additional details about the crash were not clear, but witnesses said the intersection has long been known to be dangerous.
Saturday's crash happened the same week a Los Angeles sheriff's deputy struck and killed a bicyclist while driving his patrol car on Dec. 9.