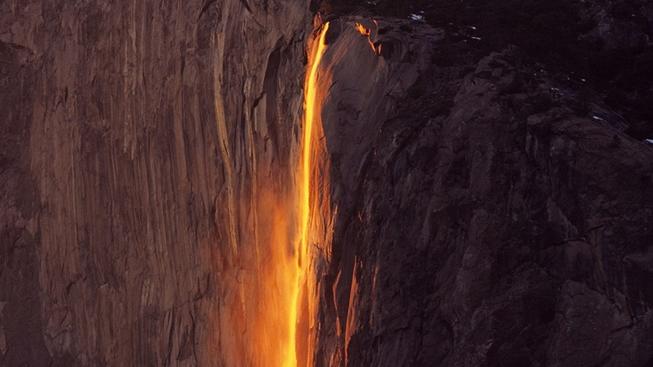 THE MIDDLE OF FEBRUARY, it may be accurately said, arrives near the beginning of the calendar, though some of its most notable occurrences do fit nicely at the end of the alphabet. Valentine's Day? That's on the 14th day of February, each and every year. Pizza Day? You can't deny that "p" is in the latter half of the alphabet. Yosemite Valley's famous wintertime "firefall"? Yep, "Y" is an alphabet-ender, or nearly. It's a fine system for remembering the things you need to remember, but if you really only have an eye on Yosemite's "firefall," which is actually Horsetail Fall dramatically lit by the day's last sunbeams, best find a system to remember this: You'll want to call upon Yosemite National Park from mid- to late-February, which is when this yearly wonder occurs.
FINDING A DAY TO VISIT... that isn't overcast, and keeping in mind that the powerful snowstorms that have been sweeping through the Sierra Nevada may impact travel, is key. Also key? The yearly Horsetail Fall pilgrimage has become quite popular, so you won't be alone as you station yourself within view. As for where to go? "Horsetail Fall flows over the eastern edge of El Capitan in Yosemite Valley," so that's where to look, though keep in mind that several places nearby are off-limits, in terms of viewing areas, due to snow and ice (and, yep, "nonexistent shoulders" are among them). And speaking of snow, "warm clothes" are recommended, as well as a few other items, by the National Park Service, so read all. You'll also make bit of a walk, "at least a mile," to reach a good spot to see the show.
NOPE, IT ISN'T FIRE, but water, rather, taking on a fiery appearance with the help of some soft but potent sunbeams. It's no surprise that people come from all over to experience a sight that's pure amazing science, with a sprinkling of enchantment on top.
Copyright FREEL - NBC Local Media