Fast-food workers say they are fed up with their working conditions, and on Tuesday morning, they're walking out.
Thousands of employees in the fast-food industry are going on strike across California, walking out for better working conditions, wages and hours and calling on lawmakers to offer them a bigger say in their futures.
A McDonald's location on Floral Drive in Monterey Park, where workers allege sewers recently flooded the kitchen, is the SoCal site of the rally employees planned for 9 a.m.
"We have no AC," said McDonald's employee Carlos Marquez. "We have to work 16 hours a day. And we're tired. And sometimes we have to work seven days a week."
Other rallies in the area are planned for 12 p.m. and 3 p.m.
By and large, fast-food employees are not represented by a union. But they've found ways to band together, pushing for change within the industry with previous rallies.
Organizers promoted the one-day, statewide protest on social media, to put the spotlight on alleged unsafe conditions in the fast food industry.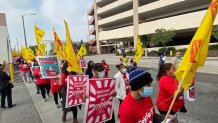 While the Los Angeles-area rallies will all be held at McDonald's restaurants, the issues fast-food employees are striking over are not limited to one fast-food franchise.
But the employees at different restaurants are speaking with one voice, making the point to the public that they work hard, and they want respect and a seat at the table.
"I don't love my company. I love my job," said Imelda Rosales.
"The owners, they don't care," she said. "The managers, they don't care about us. They think we are robots."
Rosales made a career out of working for McDonalds, and found her voice when workers first pushed for higher wages during the "Fight for 15" campaign.
Now, that same energy is being used to advocate for the passage of state Assembly Bill 257, dubbed the "FAST Act."
It would hold fast-food corporations accountable, if and when franchise owners failed to meet industry standards.
It would also establish a sector council, with 11 members selected by the California governor, Speaker of the Assembly and Senate Rules Committee. Fast-food employees would get a seat at the table.
Additionally, the bill would set minimum industry standards for working conditions, wages and working hours, "related to the health, safety, and welfare of, and supplying the necessary cost of proper living to, fast food restaurant workers," the bill states.
A statement from McDonald's asserted that the fast-food chain "and its franchisees have always and will continue to prioritize the safety and well-being of crew and customers,"
"McDonald's franchise model allows thousands of small business owners to drive their own economic growth while playing an active role as responsible employers in their communities," the statement continues, saying the franchisees work directly with their crew, "which empowers them to provide locally relevant benefits and programs that most resonate with their employees' needs, such as the appreciation bonuses, local gift cards and flexible schedules many franchisees offered throughout the pandemic."
"Measures in AB257 would disrupt this successful model, creating unnecessary obstacles for the small business owners who are best equipped to manage their restaurants and teams," McDonald's said.
The vote for AB 257 is scheduled for January.
"It's in the news and it's in the business section," said State Senator Bob Archuleta, speaking at the Monterey Park rally. "We're talking about business ladies and gentlemen. It is good business to treat your employees with pride, with dignity."
That's something the employees can all agree on.
"[My dream job is] to be one of the general managers," Marquez said. "Try to get a McDonald's and make it right. Because I know how the workers feel."