Two people were killed and a deputy was hurt after a Los Angeles Sheriff's Department patrol car collided with an SUV, officials said.
The collision between the patrol car and Ford Explorer happened about 4:30 p.m. near 17th Street East and Avenue R in Palmdale, said California Highway Patrol Capt. Gretchen Jacobs.
Officials have not said who was at fault in the crash.
Local
Local news from across Southern California
Corvette Driver Shot, Killed After Hour-Long Pursuit
"It's unknown whether the Explorer stopped for a stop sign or not, and we have conflicting information about that," Jacobs said. Officials did not know the speed either of the vehicles was traveling, she said.
The Ford Explorer had four people inside when it spun out of control. The driver and front passenger were hurt, but a man and woman in the backseat were thrown from the SUV and killed, officials said.
The deputy was taken to a hospital with non-life-threatening injuries.
The female victim was a 20-year-old woman, according to her family members, who were at the scene of the crash. The other victim was her boyfriend, relatives said.
Bicyclist Killed by LA Sheriff's Patrol Car Was Napster Exec
The woman's family were screaming and crying as they mourned their loss.
"My daughter is dead, she is dead," the woman's father could be seen screaming. "That is not ok."
Authorities did not say whether the victims were wearing seatbelts.
Video from the scene showed the patrol car on the side of the road with a smashed front end. A tan Ford Explorer could be seen with damage also on the front end.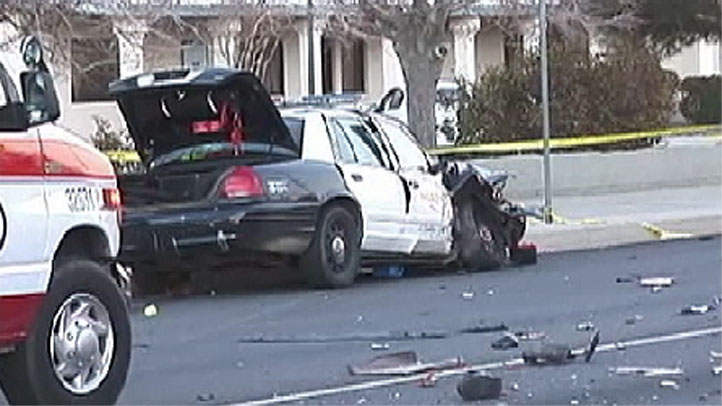 Debris from the crash was scattered across the road.
Police Pursuit Leaves 4 Dead in Fiery Crash
The deputy did not have the patrol car siren or lights on at the time of the collision, officials said.
"We do not know at this time what he was responding to," LASD Capt. Don Ford said.
A witness at the scene said the intersection where the crash happened is known to be dangerous.
Additional details about the crash were not immediately clear.
Saturday's fatal crash comes just days after a Los Angeles sheriff's deputy struck and killed a bicyclist while driving his patrol car on Dec. 9. The victim turned out to be a former chief operating officer of the online file-sharing service Napster.
More Southern California Stories: