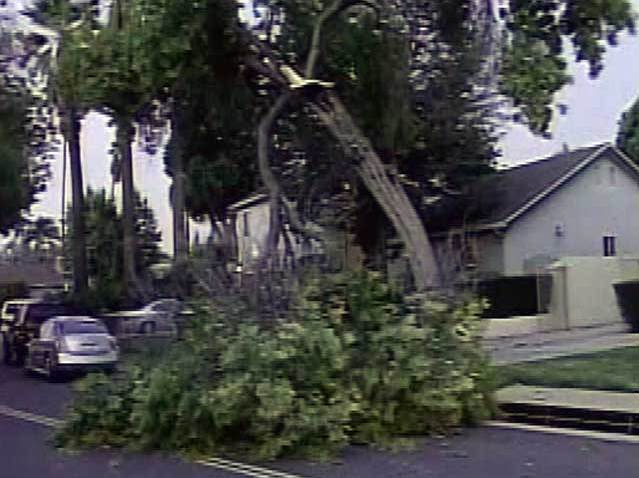 High winds knocked down more than 25 power lines, forced 10 transformers out of service and left thousands of customers without electricity.
And, then there's that blanket of ash.
The wind gusts -- some near 80 mph -- kicked up ash from the massive Station Fire. A gray haze could be seen Tuesday evening north of LA.
Local
Local news from across Southern California
Winds were still gusting as high as 74 miles per hour before dawn Wednesday.
Red flag warnings issued because of critical fire weather conditions -- strong winds, low humidity, dry fuels -- were scheduled to expire at 9 a.m. Wednesday.

A wind advisory will be in effect until 11 a.m. Wednesday in the Santa Clarita Valley and the Santa Monica Mountains Recreational area. A more serious high wind warning will be in force until 11 a.m. in all other mountain regions of Los Angeles County.
The wind also left many neighborhoods covered in pine needles, tree leaves, palm fronds and anything else that could be blown from a tree.
At Coldwater Canyon and Sherman Way, Jack lost his box. Strong winds wrestled a Jack in the Box restaurant sign to the ground.

The drive-through area was empty at the time.
Problems continued Wednesday afternoon. Wind blew a canopy onto some power lines near the Metro Gold Line tracks in the 5000 block of Marmion Way in the Mount Washington area.

Trains were stopped, according to the Los Angeles Fire Department.
Turbulence and Then Some
Winds were gusting up near 40 mph at Los Angeles International Airport, which caused problems for some planes landing, according to the National Weather Service.

While professional pilots are trained to deal with gusting winds, said Allen Kenitzer of the Federal Aviation Administration, one flight had to be diverted to another airport and two other flights had to use "missed approach procedures,'' meaning they had to make a second attempt to land successfully because of the winds.

The winds also resulted in a Jack in the Box sign crashing to the ground at Sherman Way and Coldwater Canyon Boulevard in North Hollywood.

Power Outages
About 27,000 Los Angeles Department of Water and Power customers were without electricity early today, according to the DWP. It reported outages in Echo Park, Hollywood, Crenshaw, Hyde Park, Venice, Koreatown, Park La Brea, Pacific Palisades, Studio City, Reseda, Sherman Oaks, Granada Hills and Northridge.

Also without power were about 16,000 Southern California Edison customers in areas outside the city of Los Angeles hard-hit by winds, as well as isolated pockets throughout the region, said Edison spokesman Gil Alexander. He said lines were down or damaged in the foothill communities of Monrovia, Arcadia and Altadena, and in coastal communities from Manhattan Beach to Huntington Beach.

Copyright Archive Sources