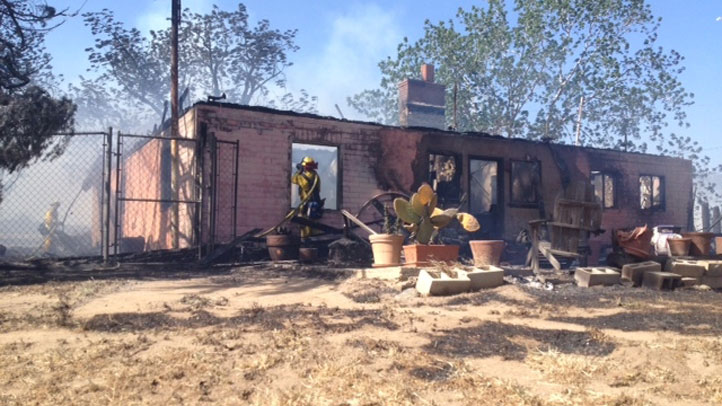 A wind-driven wildfire that threatened homes near Banning in Riverside County that forced evacuations and destroyed at least one home continued to grow Wednesday evening, scorching nearly 3,000 acres.
At least 425 firefighters, 46 engine companies, 16 fire crews, six helicopters and six air tankers were sent to control the 3,000-acre two-headed blaze, which sent up thick towers of smoke.
The massive blaze, dubbed the Summit Fire, was at 30 percent containment as of 7:30 p.m. The fire was 35 percent contained by 9 p.m. and had a "slow rate of spread," according to Riverside County Fire Department's online incident report.
Local
Local news from across Southern California
The blaze was reported at 12:38 p.m. at 10 acres. By 6 p.m., it had grown to consume at least 1,700 acres.
At least one home burned on Mesa Street at Sunset Avenue (map), and about 700 people had been evacuated and moved to aid centers. All evacuations were lifted by 8 p.m., according to Riverside County Fire officials.
At least one firefighter suffered minor injuries while battling the blaze. Fire Chief John Hawkins of CAL Fire's Riverside Unit said the first responder suffered burns to the face.
Regional air quality regulators issued a smoke advisory for the area around Banning, meaning people should avoid unnecessary outdoor activities anywhere smoke can be seen or smelled.
Hawkins said crews from outside Riverside County were called to battle the blaze in the rolling foothills and canyons.
"We are bringing in everything we can to get a hold on this fire," he said, adding that the area had very difficult access.
Hawkins said there are two "heads" to the fire: one north of Banning that is heading west toward an area north of the neighboring city of Beaumont; and another in the rugged foothills headed in the direction of the apple-growing community of Oak Glen.
Winds began to slow down about 6 p.m.
"We're looking a lot better," Hawkins said at the time, adding that the blaze is still "nowhere near contained."
The Banning Police Department evacuated residents on Indian School Lane near Eighth Street. Roads were closed on Wilson Street between San Gorgonio Road and Highland Springs Avenue.
More than 200 families in the Highland Springs Mobile Home Park were also evacuated. Those orders were lifted at 8 p.m.
Banning PD asked residents in the Bench area just north of Banning to remain in their homes because surrounding roads were blocked by fire.
Evacuated residents were ordered to go to the Banning Community Center at 789 N. San Gorgonia Avenue.
An evacuation center for small animals has been set up at San Jacinto Valley Animal Services located at 581 S. Grand Ave. in San Jacinto. A large-animal evacuation center is located at Noble Creek Park, 390 Oak Valley Parkway in Beaumont.
Crews from Riverside County Fire Department and CAL Fire worked with multiple agencies -- including from as far away as Orange County -- to control the wildfire that started near North San Gorgonio Avenue and Summit Drive in Banning (map).
"We had an abnormally early start (to the fire season)," Hawkins said. "This is very concerning."
Areas of Southern California on Wednesday were under a red flag warning, or increased wildfire danger, which indicates a dangerous combination of high winds, hot temperatures and low humidity.
NBC4's Tony Shin, Jacob Rascon and Melissa Pamer contributed to this article.