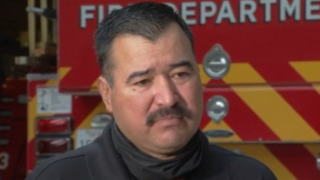 On May 16, 2020, eleven firefighters were seriously injured during one of the most intense and dangerous fires in the history of the Los Angeles Fire Department.
One of those firefighters was Fire Capt. Víctor Aguirre, who suffered serious burns. He spoke with our sister station Telemundo 52 about his miraculous recovery and the voracious fire that almost took his life away.
Aguirre recalls giving the order to leave the roof and calling out "Mayday," the emergency signal, during the May 16 fire in downtown LA.
"I will never forget that day, I have it engraved in my mind and in my body," said Capt. Aguirre.
When Aguirre and his team tried to enter the building through the roof to attack the fire, he said he had a strange feeling.
"In my heart, in my mind, I felt uneasy," said the Los Angeles Fire Department captain.
Minutes later when the fire was too intense to bear, Aguirre gave the order to retreat, and I heard multiple explosions and the roar of the fire.
Local
Get Los Angeles's latest local news on crime, entertainment, weather, schools, COVID, cost of living and more. Here's your go-to source for today's LA news.
"I told the guys to hurry up, hurry up because the blaze was so strong that my equipment was burning. My helmet was melting, and my radio started to melt," Aguirre said.
Aguirre said the silhouette of the 11 firefighters was barely visible trying to escape the fireball that engulfed them.
"I thought for a few seconds, I'm going to die here, this is the way I am going to die. At that moment I began to look at images of my children, of my wife, and I thought that I would never look at them again," he said.
But in the midst of what was hell, came what he called a divine message.
"I no longer felt pain, and I said well, I'm leaving, if God wants it, I'm fine with that, but later I saw the image of my wife again, and I said I can't go, it's not my time yet, and it was when I struggled the most, and I started shouting let's go, let's go and I pushed the firefighters in front of me," Aguirre said.
All 11 firefighters survived, but all suffered severe burns.
"I remember looking at my hands and they were hanging, I thought it was fabric, but it was my skin," Aguirre said.
His wife Claudia was immediately notified of the incident.
"It is a terrible experience. It's the call that every firefighter's wife, every mother, every sister never wants to receive," said Claudia Aguirre.
"Looking at his face was the most beautiful thing I could experience," Claudia said, when she saw him for the first time after the incident.
In the hospital, through tears, Aguirre told his son Tristan that his hands would most likely be amputated.
"You do not understand. They told me that they are going to take my hands, and he replied 'Dad, it's okay, we already won, I have your life, you have your life, we already won,'" Aguirre said.
"He is my everything. My inspiration and my life, my heart beats for him, "said Aguirre's wife.
Thanks to the support of his wife, daughter Celeste, and son Tristan, the future is discussed, and the courage and indomitable spirit of the firefighter emerged stronger.
"I won! My burns didn't beat me, the surgeries didn't beat me, I beat them," said Aguirre.
Aguirre's son also wants to follow in his father's footsteps and is already preparing to be a firefighter.
Meanwhile, the owners of the businesses that were consumed by that fire were fined $127,000 to cover the cost of the investigation, but a separate investigation is being conducted, and that has yet to be resolved.