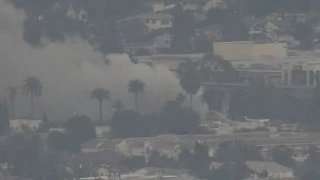 Three civilians and two firefighters were injured Thursday at a two-story Glendale apartment building that caught fire, prompting some residents to escape through windows.
The fire erupted around 2:40 p.m. at 140 Carr Drive and rapidly filled the interior with smoke. Initial calls indicated some residents were trapped inside the building, while others reportedly fled through windows.
Chief Silvio Lanzas of the Glendale Fire Department told news crews at the scene that six civilians received medical treatment at the scene, and that three of them were taken to a hospital for smoke inhalation.
Lanzas also said that two firefighters sustained minor injuries when they fell through the building's first floor into the basement, but were taken to a hospital to be evaluated.
The fire was extinguished about 5 p.m., said Glendale Fire Department Public Information Officer Anita Shandi. Residents were not allowed back in the building tonight and it was unclear when they could return. The American Red Cross is providing shelter to those who need it, Shandi said.
There was no immediate word on the cause of the blaze, and it is unclear how many people have been displaced.