It cost authorities more than $160,000 to conduct a multiday, multiagency search to find two teens who got lost in rugged terrain in Trabuco Canyon and were rescued less than a mile from their car.
Figures were released Tuesday by the Orange County Sheriff's Department totaling costs for the early April search for Kyndall Jack, 18, and Nicolas Cendoya, 19, both of Costa Mesa.
The costs for the rescue will be paid for by taxpayers unless prosecutors could show that a crime was committed -- which doesn't appear to be the case, according to fire and sheriff's officials.
The pair of inexperienced hikers had headed onto the popular trails of Holy Jim Canyon in the Cleveland National Forest on Easter only to get separated at night, having entered the wilderness with a single water bottle and no warm clothing.
Lost for several days, the two were found separately by rescuers in dense brush.
Both were dehydrated, disoriented and covered in cuts and bruises but suffered no major injuries. Each said they had hallucinated through much of their time in the steep canyon area.
"I was in lucid dreams and hallucinations for days. I could see the helicopters flying over me every day. When the firefighters came up to me, I couldn't even believe it," Cendoya said after his ordeal. "We weren't meant to die."
A reserve sheriff's deputy was seriously injured during the operation to rescue Jack, who was lifted to safety on April 4, as seen below, about 12 hours after Cendoya, who had been found the previous night.
On Tuesday, the accounting for the massive search for the pair, pictured below, showed a total of $160,378 for services from six agencies. That's a figure that Orange County Supervisor Todd Spitzer said is significantly underestimated.
"Why do I have to pay for someone's negligence?" said Spitzer, who has launched an investigation into whether the Costa Mesa teens should be held liable. "We want government services when accidents happen. We don't want people to pay for government services when 'on purposes' happen."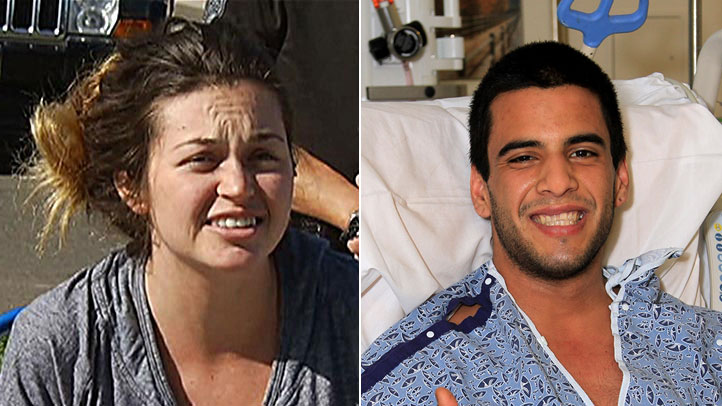 Authorities have said the hiking pair would not be charged for the extensive search effort.
Local
Get Los Angeles's latest local news on crime, entertainment, weather, schools, COVID, cost of living and more. Here's your go-to source for today's LA news.
Should the total costs on Tuesday, Cendoya said: "that's insane."
He said didn't want his parents to be burdened with the charges.
"This is like one of those one in a billion chances where you never know what could go wrong," Cendoya said. "We were that 1 percent."
The cost summary shows 728 hours of work from the Orange County Sheriff's Department provided by on-duty personnel. Along with helicopter support, the salary and services costs came to more than $32,000 for the Sheriff's Department.
The costs for the Orange County Fire Authority – which included multiple helicopters -- came to $55,000. The Los Angeles County Sheriff's Department's response totaled $58,000.
Orange County Parks, the Riverside Sheriff's Department and the California Emergency Management Agency also responded; their costs together came to about $15,000.
More than 1,900 hours of unpaid reserve and volunteer work were provided at no charge by various agencies, the cost summary notes.
When discussing the costs, Cendoya said he has decided to become a firefighter after talking to his rescuers.