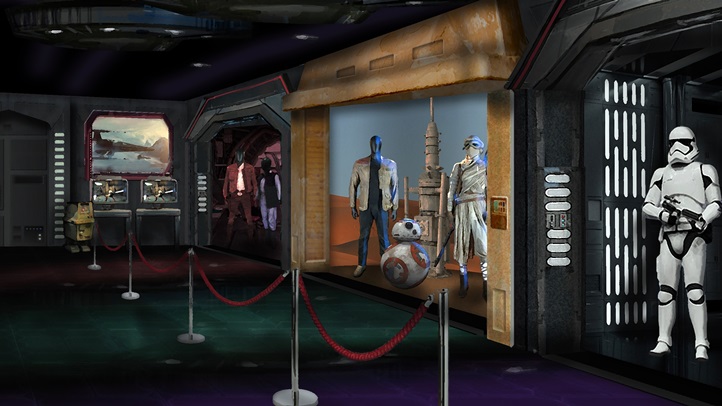 The "Star Wars" universe is rather well-known not just for its fantastical planetscapes, but for interiors that are vast and grand and not a little regal.
Think of the Great Temple on Yavin 4, the site of the awards ceremony following the destruction of the Death Star in Episode 4. And picture the Great Convocation Chamber, in all of its intimidating enormity and elegance, in "The Phantom Menace."
El Capitan Theatre, one of Hollywood's vintage movie palaces, more than fits the fantastical interior bill here, so when "Star Wars: The Force Awakens" debuts at the Disney-owned cinema on Friday, Dec. 18, fans may feel as though they've entered a room appropriate to the set-design-worthiness seen on the screen.
Local
Local news from across Southern California
But there's more to the seven-week run of the film at the El Cap beyond a posh setting to see it in, and it involves these three words: costumes, props, and lightsabers. Because every "list of 3" involving "Star Wars" should end in "lightsabers," right? It's like some rule somewhere.
While not every outfit or item spied in "The Force Awakens" will be on display in the theater's lower-level area, a few key costumes and pieces will be, making an after-credits stroll a must.
Further, a Laser Lightsaber Curtain Show, ahead of the film, will do the excitement-pre-stoking part, while you're noshing on the popcorn you're trying to make last through the opening sequence of the movie. If you know El Capitan, there's always an opening spectacle, involving some sort of song and/or dance, but seeing laser-like lights power through the 1920s-era space may be a new zenith for the location.
As for nabbing that perfect seat? Many tickets at many theaters traveled at lightspeed into people's pockets and phones when they first went on sale, at least for the opening weekend. But there are a few interesting ticket choices at the El Cap, beyond the seven-movie Opening Night Marathon (which sold-out faster than C-3PO can complain about whatever R2 is up to, which is pretty darn fast).
There's a VIP Comic Book Admission Ticket, do note, which includes popcorn, drink, and "2 exclusive variant cover designs of "Star Wars Vader Down #1" comic book by Todd Nauck or Michael Walsh.
Also, there'll be Cosplay and Cocktails evenings, on "select dates," which include a private stroll through the costumes, along with other people who've purchased the special tickets. (And drinks, too.)
And there are screenings for the tots, too, where the theater isn't quite as dark and the powerful sound isn't quite as rrreah-rreah-rreahhhhhh. (That was the approximate sound of a blaster, of course.)
Everyone but everyone and everyone they know tried for Opening Day tickets at the cinema of their choice, seemingly, but who'll be there when the spectacle of the season wraps its grand El Capitan run? Look to the first week of February, and the last showing on Feb. 7, and buy tickets for that, too.
That's braggable, yes? You're such a serious fan that you're seeing the very last showing, and not just the first. You are, in essence, seeing it out the door, with a grateful goodbye. There are many medals of honor in the "Star Wars" universe, and they're not all handed out at the Great Temple on Yavin 4.
Copyright FREEL - NBC Local Media