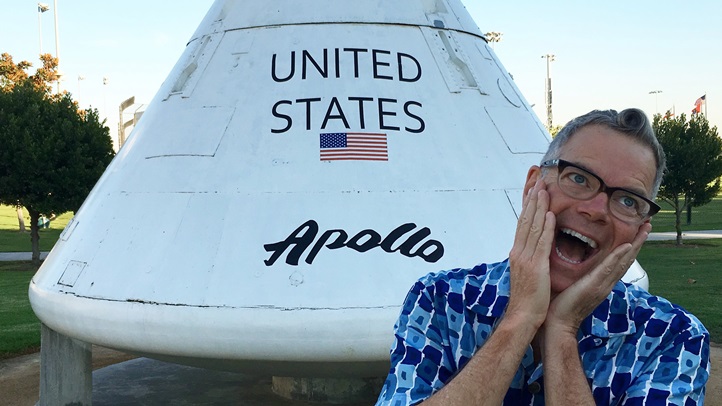 The most festive of seasons wears a number of different styles, styles that all depend upon the individual reveler's tastes.
In fact, if you were to tell someone you like to lavishly decorate for Christmas, the person might just ask if you go with a rustic-woodsy theme, or a beachy look, or if you approach your home with an elf-adorable North Pole aesthetic.
One of the most enduring themes of seasonal decorating is, of course, space, or at least a mid-century moxie that merrily incorporates the touchstones of the yuletide with a tech-cool vibe. Think the old-school color wheels that turned a tinsel wheel into a modern work of art, and picture tin toy robots under the tree.
Local
Local news from across Southern California
Charles Phoenix, that joyful gem of a history-loving showman, digs that aspirational, the-cosmos-meets-Christmas theme, and will celebrate it on Saturday, Dec. 3 with an informal gathering at the Apollo Space Capsule in Downey.
The iconic capsule, which is located outside of the Columbia Memorial Space Center, is the meet-up spot for the free afternoon-to-evening get-together, one that will include a holiday-bright lighting of the capsule and the warbling of carols.
Everyone's invited to bring doughnuts, so pick up a dozen on your way to Downey to share. And please, this is Downey we speak of, a food-fantastic place that is famous for its delicious, hole-in-the-middle pastries.
Also? Gratis coffee at the event, and pay-nothing hot chocolate, will make those doughnuts you arrive with extra dippable.
And let's get down to your cosmic attire: "Festive outer space holiday dress is encouraged," recommends Mr. Phoenix, who hatched the offbeat party plan with the help of Ben Dickow, the center's director.
The time? Lift-off is at 4:30 p.m. on Dec. 3, and everything'll be off the launchpad — read: done and over — at 6:30.
Dig space? Dig zany, non-traditional ways to celebrate the season? Like doughnuts? How about singing carols? Several of your favorite pursuits are dovetailing, delightfully, in Downey.
Many a brave astronaut has marked many a holiday while high above our planet. Bringing that holiday spirit down to earth, with some seasonal stratosphere-o-sity and oomph, feels like a festive way to honor our love of space exploration and our beloved coming-together occasions.
Copyright FREEL - NBC Local Media