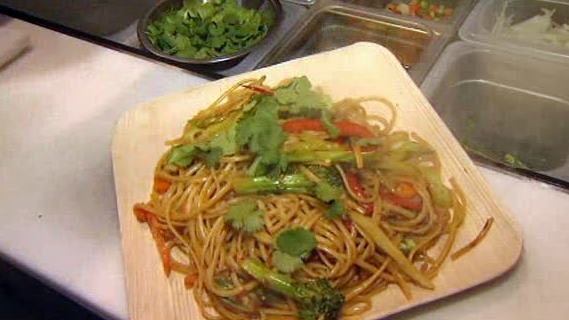 Fresheast's Spicy Garlic Noodles

10 oz cooked, chilled pasta (linguine, spaghetti, etc.)
10 oz assorted vegetables
¼ cup low sodium soy sauce
1 tbsp chopped garlic
1 tbsp chili garlic sauce
1 tsp sesame oil
1 tbsp canola or grapeseed oil

Heat a large non-stick sauté pan over high heat.
Sauce garlic in canola oil for 15 seconds, until aromatic.
Add vegetables and sauté lightly, for about a minute.
Add noodles, chopped cilantro and chili garlic sauce.
Stir and cook for 1 minute more.
Add low sodium soy sauce and sesame oil.
Maintain high heat and cook until hot, about 3 minutes.
Serve and garnish with cilantro leaves and chopped scallions.