Law enforcement colleagues gathered Wednesday morning at a funeral service for LAPD Officer Fernando Arroyos, who was fatally shot while off-duty during a robbery.
The service at Forest Lawn-Hollywood Hills included a long procession of patrol cars that streamed past the cemetery's front gate for the outdoor service. Arroyos's private burial was scheduled for later Wednesday.
A flag-draped coffin was brought to the front of the outdoor setting as bagpipes played in the background.
Arroyos, 27, was shot during a robbery Jan. 10 in the 8700 block of Beach Street in the Florence-Firestone neighborhood. Authorities said Arroyos was targeted while he was looking for a new house with his girlfriend.
He is survived by his mother, father, girlfriend, grandfather and step-father.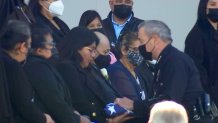 Among the mourners who joined the family Wednesday morning were LAPD
Chief Michel Moore, Los Angeles Mayor Eric Garcetti, and Los Angeles County
Sheriff Alex Villanueva.
"We are gathered here today in this beautiful setting overlooking the San Fernando Valley to grieve our loss, as well as to honor the life of Los Angeles Police Officer Fernando Uriel Arroyos -- a young officer who held such promise for this city, who was just beginning his career as a police officer in this Los Angeles Police Department, when he was suddenly, violently, and senselessly taken from us in a murderous act of violence for a few silver chains,'' Moore said.
"He was well-respected, and loved by many,'' the chief continued. "From those who knew him best, I am told Fernando was disarming in his humility and willingness to help at a moment's notice. ... Officer Arroyos strived to serve with purpose and dedication.''
Moore thanked the sheriff's department for its investigation into Arroyos' killing, and he recognized the presence at the funeral service of the four sheriff's deputies who responded to the scene of the crime and brought the mortally wounded officer to the hospital.
Garcetti also addressed the gathering.
"We've lost an angel in this City of Angels,'' Garcetti said. ``We've lost somebody whose chapter is now written here -- and what a chapter it was. ... God has called Fernando home.''
Following the 90-plus-minute service, the casket was escorted from the outdoor service area, followed by family and colleagues of the slain officer.
On Jan. 27, a federal grand jury returned an indictment against three alleged gang members and one associate for the crime. The three men and the 18-year-old girlfriend of one defendant were charged with violating a federal racketeering statute.
According to a complaint filed Jan. 13 by an FBI agent, one of the suspects admitted involvement in the killing in an interview with Los Angeles County sheriff's detectives, saying he and the other defendants were driving around looking to "make money." He went on to explain that meant to rob a person of property or money, according to the complaint.
Arroyos suffered a single gunshot wound. He ran from the area and collapsed in an alley. Responding deputies found witnesses performing CPR.
Arroyos later died at hospital.