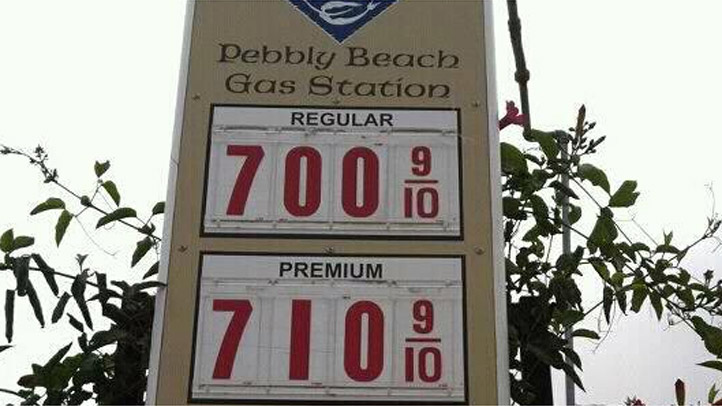 Though the cost per gallon has dropped and stabilized in recent weeks, gas prices are still causing some serious financial pain for Southern Californians.
Try living on Catalina Island, though. Gas there has topped $7 per gallon, and that's for the cheap stuff.
The prices at the Pebbly Beach gas station, owned by the Santa Catalina Island Co., are about the highest you'll pay pretty much anywhere in the United States.
Local
Local news from across Southern California
"It's the only gas station. They've got us. There's no other option," said Dwayne Morris, who's lived on the scenic island for more than four decades and operates a handyman business there.
"It's a stranglehold on the people. It's brutal," Morris added.
The Island Company, as it's known, owns a little less than a tenth of Catalina, the tourist-oriented island 22 miles southwest of Long Beach.
Catalina's only city, Avalon, has a population of about 3,700 – many of whom get around by tiny "autoettes," including gas-powered golf carts. Avalon strictly limits the number of vehicles allowed in the city.
Some residents, however, have regular vehicles – including Morris. They've long been subject to the high cost of fuel on Catalina, to the point where they regularly joke with gas station attendants.
Along with other supplies, gasoline comes to the island on barges from the mainland, Island Company marketing specialist Brittani Brisacher said.
The company owns a gas station in Avalon and another in Two Harbors, an unincorporated community on the other side of the island. They're the only two sources of fuel for cars on Catalina.
"We barely make anything off of it," Brisacher said.
The cheapest gas on Catalina is now $7.05 per gallon, she said. Clearly, Catalina residents are paying quite a bit more than the rest of us.
The U.S. Energy Information Administration reports that the U.S. average price this week – $3.94 per gallon – is up more than 25 cents over this time last year.
The average on Friday in California was $4.28 per gallon, according to AAA. The Los Angeles area average was about $4.31, the auto club reported.
Follow NBCLA for the latest LA news, events and entertainment: iPhone/iPad App | Facebook | Twitter | Google+ | Instagram | RSS | Text Alerts | Email Alerts