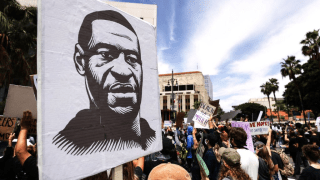 This article has been archived and will no longer be updated.
After more than a week of protests following the death of George Floyd, more marches are underway Thursday in Southern California as mourners in Minneapolis remembered the 46-year-old man at the heart of the nationwide movement.
Family members and the Rev. Al Sharpton were among those who spoke at at memorial service for Floyd in Minneapolis.
In Southern California, more protests are expected as some communities cancel curfews. In LA County, Sheriff Alex Villanueva said that his department will no longer enforce curfews, leaving the decision up to local jurisdictions.
Authorities across the county have said the vast majority of protesters have conducted themselves peacefully during marches, while blaming criminal activity on roving bands of looters and agitators.
We'll have updates on today's developments below.
Update 7 p.m.: Chief Moore Takes a Knee in Solidarity
Local
Get Los Angeles's latest local news on crime, entertainment, weather, schools, COVID, cost of living and more. Here's your go-to source for today's LA news.
Crowds gathered again in downtown Los Angeles outside City Hall and
in front of LAPD headquarters.
At one point, LAPD Chief Michel Moore came out and spoke to people in the crowd, and even dropped to one knee in a show of solidarity with the group.
"I welcome them here," he said. "I welcome them being peaceful and to the extent of someone looking at whether we bend a knee as to a matter of us seeing each other, we are here to see each other."
Some challenged Moore about a comment he made earlier this week, suggesting that looters were just as responsible for Floyd's death as the four officers accused of killing him.
Moore quickly retracted the statement, saying he misspoke, and apologized.
He apologized again to the crowd Thursday, but when he asked, "Will you accept my apology?" multiple people quickly shouted, "No."
Update 3:41 p.m.: Police Protests Continue in Orange County
Some 800 protesters have gathered at Mile Square Park in Fountain Valley as several protests were launched or planned in Orange County.
About 100 to 150 protesters amassed in Anaheim's Center Street Promenade Thursday morning. It was peaceful.
Another protest was planned at the Outlets at Orange in the city of Orange at 5 p.m.
Don Wallace, who is in his 50s and resides in Newport Beach, was arrested Wednesday on suspicion of assault with a deadly weapon after he allegedly struck a bicyclist with his Mini Cooper. He was booked in Newport Beach's jail and posted bail and was released, Rangel said.
Update 1:01 p.m.: More Protests Underway
By midday, additional gatherings, rallies and marches were being held on the streets of Hollywood, Santa Clarita, Burbank, Inglewood and at Grand Park in downtown Los Angeles. Gatherings were also held in Inglewood and Burbank.
More marches are planned at these locations.
1 p.m. at UCLA's Royce Hall.
1 p.m. in El Sereno, starting at Eastside Cafe, 5469 Huntington Drive, and marching to Semillas del Pueblo, 4736 Huntington Drive.
1 p.m. at Montebello Park.
4 p.m. at Sierra Vista Park, 611 E. Sierra Madre Blvd.
Update 12:35 p.m.: Beverly Hills Cancels Curfew
Beverly Hills announced that it will cancel all planed curfews.
"The protests in our City have remained peaceful over the last several days," said Mayor Lester Friedman. "We thank our residents and business community for their patience and cooperation as we work to keep our community safe."
Update 11:30 a.m.: Mayor Joins 'Justice Matters' Meeting
Mayor Eric Garcetti is participating in a meeting with black community and elected leader.
11:18 a.m.: Santa Monica March
Several hundred protesters marched through the streets of Santa Monica Thursday morning in a peaceful procession. Thursday's march was proceeding peacefully with no signs of the looting and vandalism that marred a weekend protest in the coastal community.
Update 10:45 a.m.: No Curfew in LA
Los Angeles Mayor Eric Garcetti says the curfew has been lifted citywide.
Update 10:05 a.m.: Curfews in Santa Clarita and Beverly Hills
Santa Clarita will have a curfew in place beginning at 6 p.m. Thursday and continuing until 6 a.m. Friday.
Update: 9:45 a.m.: LAPD Issues Statement on Protests
The Los Angeles Police Department issued a statement Thursday morning on this week's protests and arrests. The statement included a reference to police conduct, urging anyone who believes they witnessed misconduct to contact the department.
Update 9:37 a.m.: No Curfew Enforcement
The Los Angeles County Sheriff said Thursday that his department will no longer enforce curfews. Sheriff Alex Villanueva said in a tweet that other jurisdictions are free to do as they please. Supervisor Janice Hahn told the LA Times the curfews seemed warranted Sunday and Monday, but that they now appear to be resulting in the arrests of peaceful protesters instead of looters and vandals.