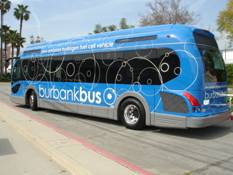 It's all the buzz in Burbank... the big blue bus with the funky paint job. It's the nation's first hybrid commuter bus and Burbank residents will soon see it cruising through the neighborhood.
The city has been selected as the national test site for this snazzy new zero-emission, ultra-quiet prototype, thanks to a $1.37 million state grant. The revolutionary bus uses a hydrogen fuel cell instead of a diesel or gasoline engine. It can travel 250 miles before needing to be recharged.
The hybrid runs on two fuel cell modules and lithium titanate batteries, making it twice as economical as a diesel bus. Best of all, it will release nothing but water from the engine exhaust.
Local
Local news from across Southern California
The reconfigured bus is built on a light-weight chassis and is 35 feet long. It can carry up to 37 passengers. It hits the streets of Burbank next month.