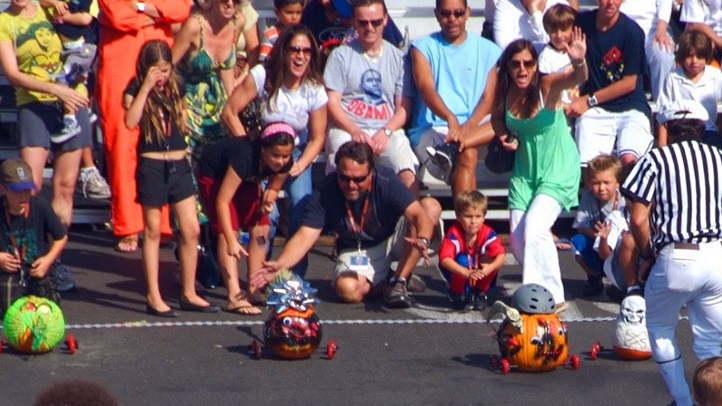 October is awash in quirky attributes, but one of the most prominent, if notably unsung, is the fact that we invite a certain foodstuff into our home for the better part of the month, an edible that we don't eat (at least not yet) but instead decorate and display.
Other fruits don't receive the cushy, month-long welcome of the pumpkin, but our devotion to the stem-topped icon goes well beyond lattes, jack o'lanterns, and centerpieces: Sometimes we put pumpkins on wheels and send 'em off to the races.
Well, one well-known race in particular: The World Famous Manhattan Beach Pumpkin Race, a long-runner of a fundraiser that puts an emphasis on joyful absurdity, creative can-do, and helping others.
Local
Local news from across Southern California
The date? It's Sunday, Oct. 23. The time? The squashy shenanigans rev up at noon.
The beneficiary of the afternoon-long happening, which takes place at the pier? Make Autism Work. Funds from the day will "provide MBUSD Transition Program students with extra vocational training and local employment opportunities they need to succeed in their transition goals," including learning "to live and work in our community as neurodiverse young adults."
True story, then: Showing up to cheer on the turbocharged pumpkins isn't all about seeing which wheeled wonder crosses the finish line first. There are bigger, longer-lasting things at work in this venerable event.
True story, contd.: The tenets of the day include "creativity, ingenuity, diversity, and fair play," so, really, if you want to jump up and down for all the speedy seedy competitors, go for it.
Also true? It's free to attend.
As for top honors? For sure, design and adorableness will be rewarded, but the "Worst Crash" will also be given due recognition. The guts-glorious orbs, as every pumpkin purchaser knows, can make a rather spectacular, stringy mess with very little provocation.
The World Famous Manhattan Beach Pumpkin Race passed its quarter-century mark in 2015, making the yearly event a true-blue — or true-orange, perhaps — community stalwart, a fun fundraiser that wears its giveback spirit, and seasonal zaniness, proudly.
Can't attend but want to donate? Start here. Thinking of putting your own pumpkin, the one sitting sedately upon the dining room table, on wheels? Vroom.
Copyright FREEL - NBC Local Media