Drought-relief legislation providing about $1 billion in spending was proposed Thursday by Gov. Jerry Brown and Democratic legislative leaders as California enters its fourth consecutive dry year near the end of what has been a dismal wet season.
[GALLERY UPDATED 8/27] Dramatic Photos of California's Drought
The plan calls for $1 billion in drought relief and is a response to what the governor and lawmakers called a water crisis that has intensified after months without much signficant precipitation. The vast majority of the package accelerates spending that voters have already approved for water and flood projects, including last year's $7.5 billion bond measure.
"There is no greater crisis facing our state today than our lack of water," said Senate President Pro Tem Kevin de Leon during Thursday's news conference.
The two proposed bills would provide some funding for immediate aid to communities facing dire water shortages and unemployment. There is also money for emergency drinking water, food aid for the hardest-hit counties, fish and wildlife protections and groundwater management.
The legislation will need majority approval from the state Legislature which is controlled by Democrats. Republican leaders have not been briefed on the plan, according to their spokespeople.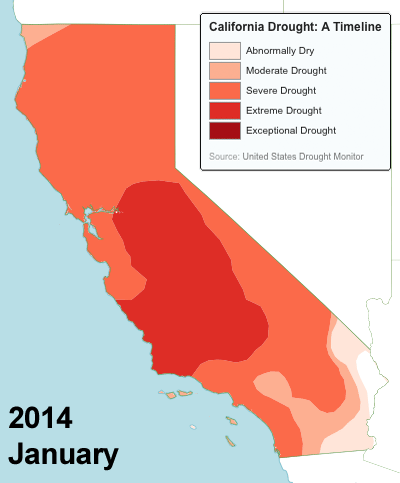 Such spending is normally approved as part of budget negotiations that last through June. Although the plan being announced is labeled as emergency legislation, much of the funding has been available to the state for years. Some of the projects that will benefit could take more than a year before there is a noticeable increase in water supplies.
"This is a stuggle and it's going to be something we're going to have to the live with," Brown said Thursday. "For how long, we're not sure."
The announcement with Assembly Speaker Toni Atkins and de Leon came one year after Brown signed a $687 million drought-relief package and the state's call to reduce monthly water use by 20 percent. But the drought's effects have continued to ripple across California, fueling more wildfires, forcing farmers to leave fields unplanted and leaving thousands in the Central Valley without work.
Local
Get Los Angeles's latest local news on crime, entertainment, weather, schools, COVID, cost of living and more. Here's your go-to source for today's LA news.
"The drought isn't letter up, so we can't either," Atkins said. "This package alone will not solve our water emergency."
Winter is normally California's rainy season, but it's drawing to an end without significant storms to replenish reservoirs. This week's U.S. Drought Monitor report, released Thursday, shows nearly 40 percent of the state under the exceptional drought category. The Monitor depicts drought severity in five categories --- abnormally dry, moderate, severe, extreme and exceptional.
Ninety-three percent of the state is under severe drought, according to the weekly report issued by several government agencies.
The water in the Sierra Nevada snowpack, California's largest water source, is far below normal. Springtime runoff from the Sierra range flows into the Sacramento-San Joaquin River Delta, supplying water for an estimated 25 million Californians.
Continuing dry conditions drove state water regulators this week to ramp up mandatory water restrictions on California residents. Under rules approved Tuesday by the State Water Resources Control Board, Californians cannot water their lawns daily and must ask for water when dining at restaurants.
Brown was asked Thursday about calls for the state water board to enact stricter rules. He said the board is "acting at pace that makes sense."
"It takes a long time for people to grasp an unprecedented change," Brown said. "It takes a while. You might say why doesn't the Water Board do this or that? I'm going to talk to some members of the Water Board and ask them that very question."
A year ago January, when the governor issed a drought proclamation, he asked all Californians to cut water consumption 20 percent voluntarily. Few areas have been able to meet that goal, except last December when there was rain. Asked about the failure of local water districts to require or meet the 20 percent goal, the governor said, "I don't like to second guess," and declined to issue a call for mandatory cutbacks.
"I think it's really up to the water districts," said Madelyyn Glickfeld, director of the Water Resorces Group at UCLA. "Hopefully the Metropolitan Water District will step up now."
Metropolitan is southern California's largest water importer and wholesaler, with 26 members, including Los Angeles, and serving a region of 19 million people. Its board next month is expected to vote for allocation cuts of 10-20 percent, chairman Randy Record told NBC4 last Friday. Member retailers that do not conserve enough will face surcharges.
The governor warned that worsening drought conditions will mean Californias will have to do more.
The $687 million funding package approved last year provided immediate aid such as drinking water for communities facing dire shortages and food and rental assistance. Most of the money is going to local agencies for projects like water recycling and new wells, with another $250 million set to be awarded by fall.
Lawmakers last year also negotiated a $7.5 billion water-bond measure with the governor, which was approved by voters in November. Money from that measure could be tapped to speed up local water projects.
Copyright AP - Associated Press