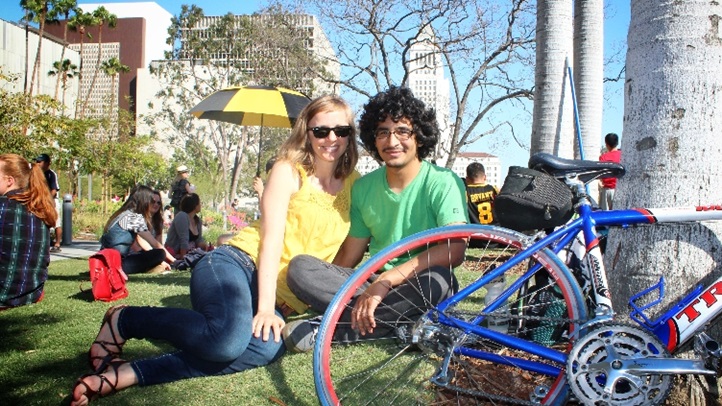 Whether the crocuses are blooming on your block, or various small buds are popping up on various limbs of various trees, we can't rightly know from here.
What is known, however, is that February's three-day weekend skipped its El Niño-ready clothing -- slickers, galoshes, and such -- and instead donned its shorts, flip-flops, and a tank top.
So while we keep an eye on the forecast, with a touch of "what gives?" to this drier winter month, we also can see, on the shrubs and vines, that spring is nigh. There shall be several places around the region to greet the season, come March, April, and May, but few spots are freer, and funner, and food-truck-ier, than downtown's Grand Park.
Local
Local news from across Southern California
Yes, "funner," which is, of course, not an actual word, but springtime calls for expanding upon the concept of "fun," in all the ways that it can be expanded, in a cheeky and knowing fashion.
Prepare, then, to expand into your coming weeks as a bevy of happenings fill out the City Hall-close green space, goings-on that include exercise and entertainment and pursuits of a Bradburyian nature.
Let's start there: A celebration of Ray Bradbury alights with the grace of an interplanetary spaceship at the park on Saturday, March 12. "Farenheit 451" is the theme, and anyone who stops by can take a crack at writing, if so inspired by quotes from the game-changing book. (We'll guess you shall be so inspired.)
¡Lunchtime! programs are popular at the park, with a diverse slate of doings to come. Free yoga sessions are on the horizon, as are food truck stop-bys (the eats, of course, are not gratis, but the convivial spirit of noshing in the setting is free). As for the midday concerts ready to pop up? No ticket required; listen/watch all you like and pay nothing.
Knitting, crafting, and writing will have their days at the Music Center-adjacent location, and the LAUSD Grand Arts Festival spreads out, with joy and creativity, on Saturday, April 16. And is that Earth Day on approach? It is, on Saturday, April 22.
For the full slate of buds-a-poppin', sun-a-stream' gatherings, meander through the Grand Park calendar now. Spring couldn't seem nigher, and our desire to do fun -- and even "funner" -- things for free is on the rise, much like sap and pollen and the mercury inside the thermometer.
Copyright FREEL - NBC Local Media