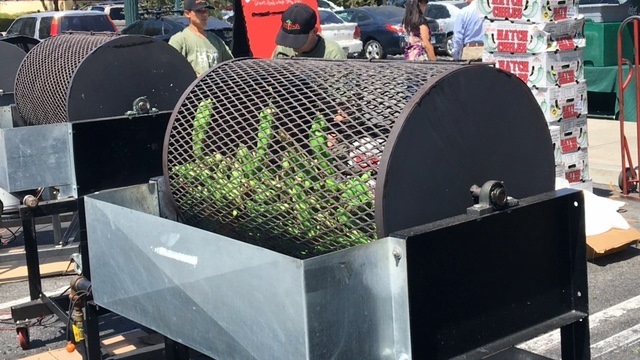 Chile, as in Hatch-grown chile, as in the piquant peppers used in countless ways in hundreds of New Mexican dishes, as in the bright green fruit that ends in an "e" (and not an "i"), has had its day in the Southern California sun.
That sun isn't setting quite yet. But consider this an urgent missive to the dear chileheads of LA and beyond: We are at our final heat-happy hour of the 2016 crop, at least in terms of finding the good green stuff freshly roasted in a regional zip code.
For while our local roasting parties fired up around the middle of August, filling grocery store parking lots with that sweet, slightly woodsy, but ultimately indescribable fragrance of chile peppers over fire, they're winding down, and ahead of autumn's official start, too.
Local
Local news from across Southern California
This is where it gets tricky, because Hatch chile is one of the unofficial foods of autumn and winter, an add-in ingredient that makes heartier fare full of the fuego.
But the roasting'll be done well before the start of fall, on Sept. 22, so best clear Sept. 9 or 10 and get to one of the final spots on the Southern California list (a list provided by Melissa's Produce, which has trucked in sack after sack of the spicy pods).
Pavilions West Hollywood'll have the roasters turning on Saturday, Sept. 10, as will Bristol Farms in Santa Monica. A few spots around Orange County, including the Gelson's in Dana Point, will host Sept. 10 roasts, too.
See for yourself, though: This is it, chile-wise, for another year, and the ever-popular, obsessed-over, social-media'd foodstuff, a superstar of late summer, is ending its see-it-roasted-live run for now.
Can your breakfast burritos and chimichangas go without chile's particular flavor wow for the next several months?
Thought not.
It's that serious and that delicious, whether you go mild, medium, hot, extra hot, or the extremely yowza-packed peppers that seem to laugh good-naturedly in the face of the Scoville scale.
Copyright FREEL - NBC Local Media