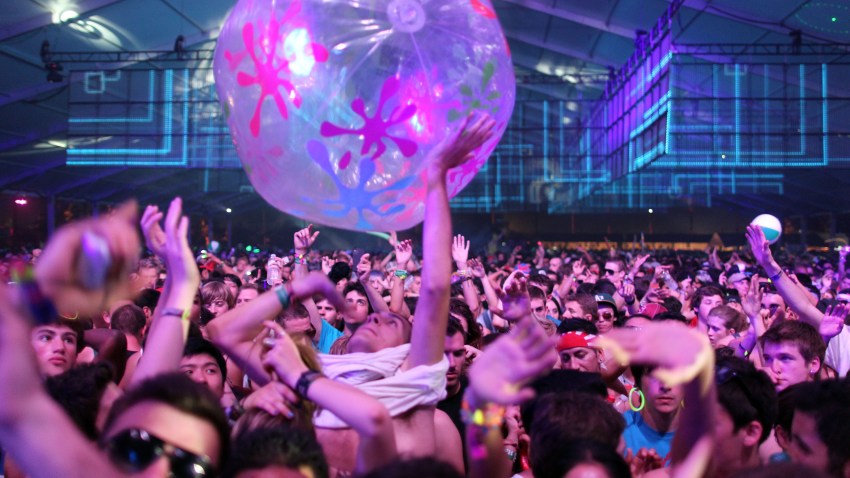 Day Two of the Coachella Valley Music and Arts Festival wrapped up with a set by the Grammy-winning indie rock band Arcade Fire.
Among the big draws Saturday were the English bluegrass band Mumford & Sons; Big Audio Dynamite fronted by Mick Jones, formerly of the Clash; indie rock sweethearts Jenny & Johnny (Rice and Lewis); One Day As a Lion fronted by Rage Against the Machine's Zack de la Rocha; Erykah Badu; and Alf Alpha, a deejay hailing from Palm Desert.
Other acts included Yelle, The Radio Dept., Don Letts, Animal Collective and Trampled by Turtles.
Montreal-based Arcade Fire, which recently won the album of the year Grammy, staged a massive balloon drop as part of its closing act Saturday. The band, fronted by husband and wife Win Butler and Regine Chassange, performed "Month of May," "No Cars Go" and "The Suburbs" during the set and asked fans to give to Partners in Health, a charity serving Haitians.
Local
Local news from across Southern California
SEND US YOUR COACHELLA PICTURES | Email Us at isee@nbcla.com

Among the Day Two celebrities spotted were Kirsten Dunst, Paris and Nicky Hilton, David Hasselhoff, Katy Perry, Corey Feldman, Rihanna, Dominic Monaghan from "Lost," and Victoria's Secret model Alessandra Ambrosio.
Festival promoter Goldenvoice doesn't make attendance figures public, but about 80,000 people or more are expected each day.
Day Two ended with fewer arrests but more than 100 people were kicked out for trespassing.
The three-day festival, with about 120 bands on six stages, has been sold-out for months, and computer-chipped wristband "tickets" and some clever anti-trespassing traps pretty much shut down fence climbers -- at least on Day One.
But Indio police spokesman Ben Guitron said 103 people were kicked out of venue on the grounds of the Empire Polo Club on Saturday, because they didn't have wristbands. He said they were told they would be arrested if they got back in.
Tickets for the three-day festival, now in its 12th year, start around $300, and trespassing has been a problem in the past. Security guards reportedly have laid traps for fence climbers.
About 20 people were arrested on suspicion of public intoxication or drug possession on Day One -- a smaller number in recent years -- and just 16 people were arrested Saturday, Guitron said.
FOR MORE INFORMATION | Complete Coverage of Coachella
Afternoon temperatures were near 100 degrees and it showed -- some women were photographed wearing only daisies from the waist up.
No information was made available about requests for medical aid, but the Coachella crowd is typically prepared for the heat, and stage crews hose down hot fans from time to time. Also, people who turn in 10 empty water bottles, get a full one for free.
Today's temperatures should be a few degrees cooler.
Copyright CNS - City News Service