A NASA map shows the stark warm-and-cold contrast between the Western United States and regions to the east during late December and early January.
The map above uses land surface temperatures, not air temperatures, based on data from imaging tools on NASA's Terra satellite. Land surface temperatures, which are influenced by weather, climate patterns and the type of surface itself, indicate how warm the Earth's surface would feel to the touch and can vary significantly from air temperatures.
The map depicts North America land surface temperatures from Dec. 26 to Jan. 2 compared to the same period's average for 2001 to 2010. So, red colors are shown in areas that were warmer than average and blue areas were colder than average.
White areas were normal. The gray portions indicate areas without enough data.
The result is an illustration of how heat can persist across a large swath of the United States while the rest of of the country is locked in a severe Arctic cold pattern. A major factor is a "giant meander" in the jet stream referred to as an atmospheric Rossby wave that serves as a dividing line between blue and red on the map. The waves are primarily due to geography and serve as a way to transfer heat from tropical areas to Earth's poles and colder air toward the tropics.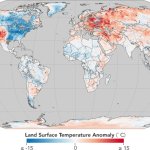 According to NASA: "As the crest of a Rossby wave -- a ridge -- pushed unusually far toward Alaska in December, it dragged warm tropical air with it. In response, the other side of the wave -- a trough -- slid deep into the eastern United States, bringing pulses of dense, cold Arctic air south with it. The Rocky Mountains have boxed in much of the coldest, densest air, serving as a barrier between the cold and warm air masses."
Pulling back for a larger view of the planet, a lot more red -- abnormally warm areas -- appears in other parts of the world.
The land surface temperature maps are especially useful for determing how much heat stress will affect crops of commercial farming operations. In winter, the maps can help citrus farmers determine when crops might be exposed to damaging freezes.
[NATL] Extreme Cold Follows East Coast Winter Storm