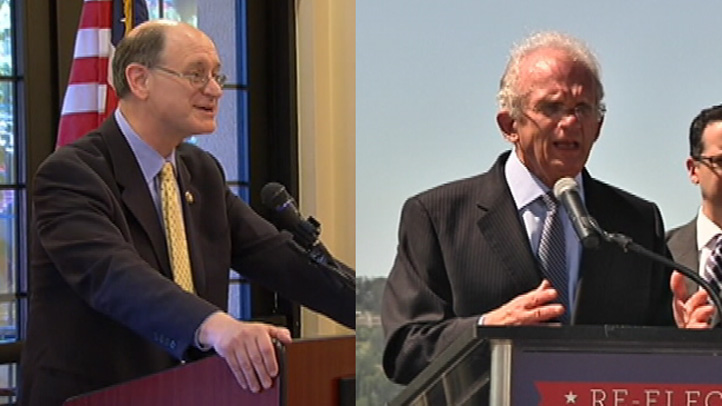 Pitted against another popular Democrat and fighting for his political future, Southern California Congressman Howard Berman has pushed aside his longtime strategist – his brother, Michael – in favor of one of the party's biggest guns.
Brandon Hall, whose guidance is widely credited with helping Nevada Sen. Harry Reid stave off a formidable Tea Party assault two years ago, has stepped up his role in Berman's campaign, Hall told NBC4 on Monday.
"I'm taking over campaign strategy and day-to-day of the Berman campaign," Hall said.
Local
Local news from across Southern California
The top gun has already started making his presence felt in the campaign, sending a memo to Berman supporters Wednesday morning that is sharply critical of Berman's opponent, Sherman Oaks Congressman Brad Sherman.
Sherman, he wrote, "is a serial exaggerator," inflating both his fundraising prowess and his accomplishments. Berman, he told them, had already set up 30 fundraisers between now and the election.
Berman, who for 30 years has represented parts of West Los Angeles and the San Fernando Valley, is heading into the fall election with campaign coffers that are greatly depleted after a bruising primary battle against Sherman, a fellow Democratic incumbent.
The two, who for years served in adjacent areas in the Valley communities of Sherman Oaks, Studio City and North Hollywood, were forced to face off against each other this year after a new, non-partisan commission re-drew California's congressional districts.
The race quickly became one of the most expensive congressional battles in the nation, and is widely viewed as a symbol of California's difficulty reforming its clunky electoral system.
Although Berman lost to Sherman in the primary, the two will battle each other again in November, thanks to new rules that allow the top two vote-getters in any primary to advance to the general election – even if they come from the same political party.
The elevation of Hall means a secondary role for Berman's powerful brother, Michael Berman, who has traditionally handled strategy for his elected sibling.
"Michael Berman still has input on the campaign, but I'm stepping into a leadership position, and he's taking a step back," Hall said.
Parke Skelton, who is running Sherman's campaign, said the switch-up amounts to an acknowledgement by the Berman camp that their candidate had fallen behind, both in fund-raising and in voter support.
Sherman, he said, exaggerated neither his record nor his fund-raising ability.
Indeed, a key task for Hall will be to make sure Berman raises enough money to buy campaign ads and send out mailers in what is likely to be a long and vicious campaign.
Over the weekend, Berman won 58.5% of votes from delegates to a meeting of the California state Democratic Party. It was just short of the 60% needed to gain the party's endorsement, but a huge turnaround from last February, when Sherman garnered a majority of delegates' votes.
The longtime Congressman has raised more money than Sherman, and has held the backing of many key players in the Democratic establishment throughout.
But Berman goes into the fall campaign considerably weakened.
The new district consists mostly of neighborhoods that Sherman has represented for years, and voters are more familiar with him.
The latest campaign finance reports show that although Sherman raised less money from individual donors than Berman, he has loaned $700,000 of his own money to the campaign. Sherman's campaign will also benefit from $708,400 in interest and dividends the candidate earned from investing funds that he had raised.
So even after spending nearly $2.8 million on the primary, Sherman is going into the fall campaign with $3 million in cash on hand. Berman, by contrast, has just $447,000.
"He'll need to raise $150,000 a week between now and election day just to match what we have now," said Sherman spokesman John Schwada. "They're in disarray."
Follow NBCLA for the latest LA news, events and entertainment: iPhone/iPad App | Facebook | Twitter | Google+ | Instagram | RSS | Text Alerts | Email Alerts