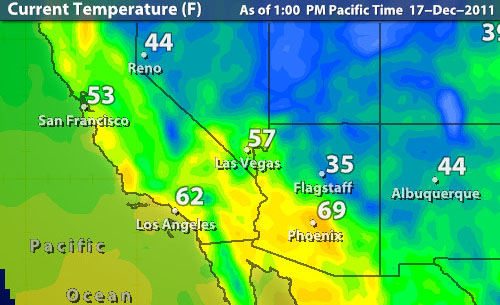 Saturday might be wet, but one thing is sure: it'll be windy.
The same unsettled weather pattern that has brought wind and rain to the Southland since Thursday will continue producing gusts and scattered showers into early Sunday.
High wind warnings remain in effect until the afternoon Saturday for Los Angeles, Orange, Riverside and San Bernardino counties.
Local
Local news from across Southern California
The national weather service said winds of up to 65 mph in the San Bernardino County area could blow over trees and knock down power lines.
The strongest winds will be in the passes and canyons, and near the coastal foothills, the weather service said.
Already, gusts of 62 miles per hour were registered near Mount Wilson, and the California Highway Patrol has issued high wind warnings for the Newhall Pass and the Northern San Fernando Valley.
Winds of 38 mph were recorded across Santa Clarita and Malibu felt gusts of 25 mph Saturday morning.
The wind is expected to settle down this afternoon, but light gusts will stick around through Sunday.
The severe weather alerts for Los Angeles, Orange, San Bernardino and Riverside counties have been lifted in favor of a hazardous weather outlook – with isolated showers and thunderstorms possible through tonight.
Moderate temperatures around 60 degrees are expected in the Los Angeles basin. In the high desert, temperatures will get up to the mid-50s, with partly cloudy skies.
Follow NBCLA for the latest LA news, events and entertainment: Twitter: @NBCLA // Facebook: NBCLA