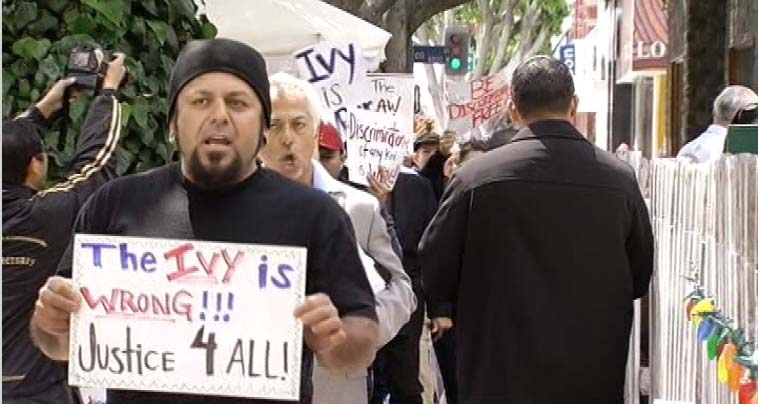 Protestors rallied in front of celebrity hotspot The Ivy on Robertson Boulevard Thursday afternoon, prompted by a lawsuit filed by a fired busboy who claimed he was discriminated against for having HIV.
Reymundo Martinez claims he was wrongfully terminated shortly after providing a doctor's note that stated he had a "chronic medical condition requiring on-going, life-long treatment," according to court documents filed in a Los Angeles County Supreme Court on March 29.
The note came from the Jeffrey Goodman Special Care Clinic, known in the Los Angeles community for treating a high volume of HIV-positive patients, according to Martinez's legal team.
Local
Local news from across Southern California
"We didn't know that he had HIV until we received a letter from his attorney months after he was fired from the restaurant," said Richard Irving, owner of The Ivy.
But Martinez's legal team said there was a discriminatory motivation to fire the former busboy.
The Ivy had an "obligation to engage in the interactive process" with Martinez, and it is "supposed to be done in good faith" after a worker informs an employee that he has a disability, said , Matthew Barragan, spokesman for the Mexican American Legal Defense and Educational Fund (MALDEF), the law group defending Martinez
Martinez was fired on the sole basis he had a disability; not because he was a bad employee, Barragan said.
"I don't think anyone who knows us, knows The Ivy, is going to believe that we would let someone go because of some illness or anything like that," Irving said.
Nearly two dozen protesters disagreed with Irving, however, when they gathered outside the restaurant Thursday afternoon, led by Richard Zaldivar, executive director of the special interest group Las Memorias.
The group's purpose, according to its website, is to help prevent illness in the Latino communities affected by HIV/AIDS.
"The Ivy Restaurant discriminates against HIV positive workers," demonstrators yelled.
Las Memorias wanted to send a strong message to The Ivy and let them know, "it's not ok to fire someone who is HIV positive," Zaldivar said.
Martinez was diagnosed with HIV in Dec. 2010. Shortly after beginning treatment for the virus, he experienced adverse side effects from his medication, according to court documents.
After informing his employer of his special needs, Martinez was sent home for a week, the lawsuit notes. Upon returning to work with his doctor's note in hand, he was let-go from his position as a busboy.
MALDEF accused the Ivy of violating California's Fair Employment and Housing Act, which protects Californians from employment discrimination.
"These people are the back kitchen, you don't necessarily see them. Even he (Martinez) is protected. Reymundo was targeted based on his disability," Barragan said. "We are trying to restore this and right this wrong,"
Martinez is currently unemployed and homeless, said Barragan. He lost his apartment and car after he was fired from the restaurant and has suffered severe emotional distress, Barragan said.
Follow NBCLA for the latest LA news, events and entertainment: iPhone/iPad App | Facebook | Twitter | Google+ | Instagram | RSS | Text Alerts | Email Alerts