Flowers in honor of celebrated "Star Trek" actor Leonard Nimoy were placed at his Walk of Fame star Friday in Hollywood, where he returned after military service to work several jobs before landing his best-known role.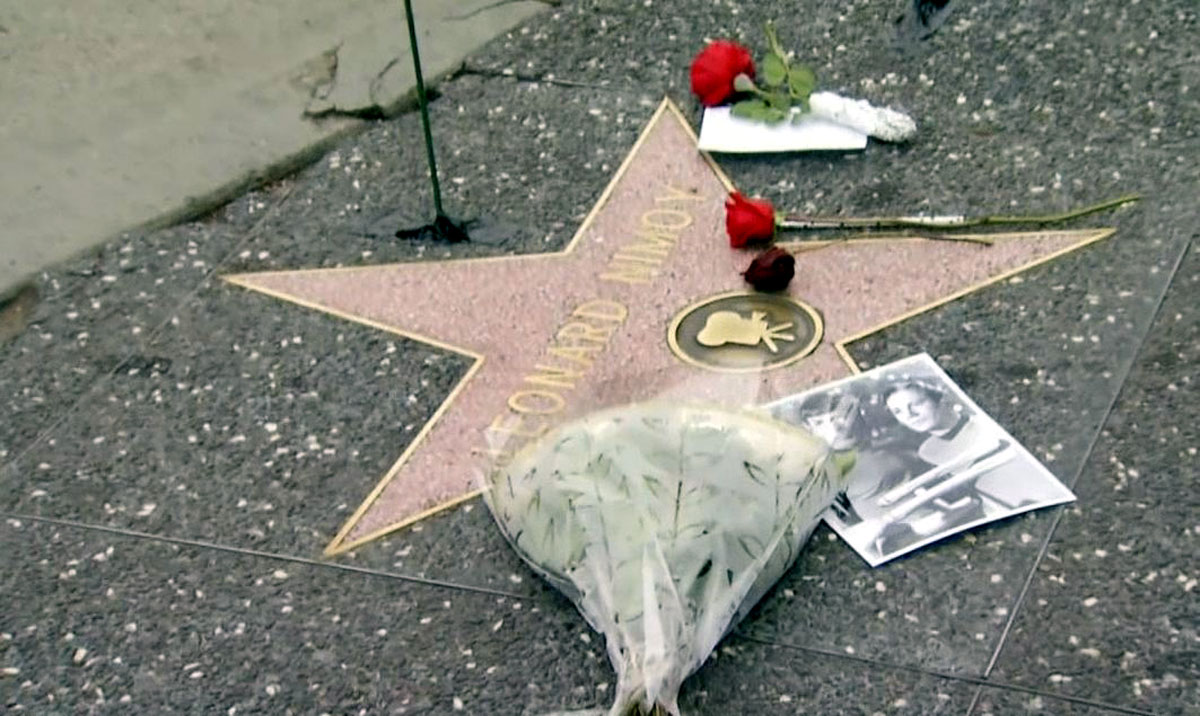 Nimoy, beloved by generations of "Star Trek" fans for his role as Mr. Spock, died Friday of end-stage chronic obstructive pulmonary disease at his Bel Air home, according to agent Bob Gersh. At his Walk of Fame star in the 6600 block of Hollywood Boulevard, a yellow wreath and flowers were placed on the sidewalk in memory of Nimoy, who moved from the East Coast to Southern California in his 20s to pursue his passion for acting.
"The memories I have of him are just growing up as a kid," Leron Gubler, president and CEO of the Hollywood Chamber of Commerce, said after placing the wreath. "We'd watch 'Star Trek,' my dad would change the channel and he'd say, 'That's silliness.' And, we'd turn it back.

"Leonard Nimoy created that role. Nobody could have created that role any other way."
A life is like a garden. Perfect moments can be had, but not preserved, except in memory. LLAP

— Leonard Nimoy (@TheRealNimoy) February 23, 2015
A card attached to the wreath mentioned one of the phrases that often accompanied Mr. Spock's Vulcan salutes, "Live long and prosper." Other items left at the star included a black-and-white photograph of Nimoy and co-star William Shatner on the set of "Star Trek."
"I loved him like a brother," Shatner said in a statement. "We will all miss his humor, his talent, and his capacity to love."
Nimoy's journey to Southern California and Hollywood stardom began in Boston, where he was born to Jewish immigrants from Russia. Nimoy was raised in an Italian section of the city where, although he counted many Italian-Americans as his friends, he said he also felt the sting of anti-Semitism growing up. At age 17 he was cast in a local production of Clifford Odets' "Awake and Sing" as the son in a Jewish family.
"I loved him like a brother. We will all miss his humor, his talent, and his capacity to love." -William Shatner http://t.co/U8ZN98tVYp

— William Shatner (@WilliamShatner) February 27, 2015
He won a drama scholarship to Boston College but eventually dropped out, moved to California and took acting lessons at the Pasadena Playhouse. That's where he met Sandra Zober, a fellow student.
The two later married and had two children, Julie and Adam. The couple divorced, and in 1988 he married Susan Bay, a film production executive.
Soon after arriving in Southern California, Nimoy lost his "Boston dead-end" accent, hired an agent and began getting small roles in TV series and movies. He played a baseball player in "Rhubarb" and an Indian in "Old Overland Trail."
Nimoy enlisted in the U.S. Army Reserves in the early 1950s. After his service in the Army, he returned to Hollywood, working as taxi driver, vacuum cleaner salesman, movie theater usher and other jobs while looking for acting roles.
Rest in peace with the stars, my dear friend. pic.twitter.com/D2dVG6I9Xi

— George Takei (@GeorgeTakei) February 27, 2015
He became Spock after "Star Trek" creator Gene Roddenberry noticed his work in guest appearances on the TV shows "The Lieutenant" and "Dr. Kildare." The space adventure set in the 23rd century had an unimpressive debut on NBC on Sept. 8, 1966 and struggled to attract an audience during its three seasons. The show was canceled in 1969, but its dedicated legion of "Trekkies" kept its memory alive with conventions and fan clubs.
The show used several shoot locations around Southern California, including Griffith Park and Vasquez Rocks near Santa Clarita. The Griffith Observatory contains a fitting tribute to the science fiction star, the 190-seat Leonard Nimoy Event Horizon Theater.
The name recognizes contributions made by Nimoy and wife Susan to the Griffith Observatory's renovation and expansion. Nimoy once called the Observatory, perched above Hollywood, a Los Angeles icon that "we need to ensure will be here for generations to come."
Local
Get Los Angeles's latest local news on crime, entertainment, weather, schools, COVID, cost of living and more. Here's your go-to source for today's LA news.
"He was a remarkable man, well known not only for his acting and directing, but also for his photography, contemporary art collection, and for his extremely generous philanthropic contributions and support of the arts," said agent Bob Gersh.
He also left his mark on Southern California as a popular guest at the annual Comic-Con festival in San Diego.
"We were terribly saddened to learn of the passing of Leonard Nimoy," said David Glanzer, spokesman for Comic-Con. "An always-popular guest at Comic-Con, Mr. Nimoy was a respected and talented actor, director and artist who left a remarkable legacy on popular art the world over."
Nimoy followed his 1966-69 "Star Trek" run with a notable career as both an actor and director. He joined the hit adventure series "Mission Impossible" as Paris, the mission team's master of disguises.

From 1976 to 1982, he hosted the syndicated TV series "In Search of ... ," which attempted to probe such mysteries as the legend of the Loch Ness Monster and the disappearance of aviator Amelia Earhart.

He played Israeli leader Golda Meir's husband opposite Ingrid Bergman in the TV drama "A Woman Called Golda" and Vincent van Gogh in "Vincent," a one-man stage show on the life of the troubled painter. He continued to work well into his 70s, playing gazillionaire genius William Bell in the Fox series "Fringe."

He also directed several films, including the hit comedy "Three Men and a Baby" and appeared in such plays as "A Streetcar Named Desire," "Cat on a Hot Tim Roof," "Fiddler on the Roof," "The King and I," "My Fair Lady" and "Equus." He also published books of poems, children's stories and his own photographs.
Copyright AP - Associated Press