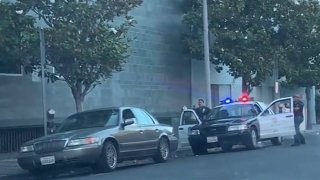 A homeless woman suspected of fatally shooting a homeless man during an argument outside a grocery store near the La Brea Tar Pits was arrested Wednesday night.
The shooting occurred at about 12:35 p.m. outside the Ralphs market at 5601 Wilshire Blvd., said Officer William Cooper of the Los Angeles Police Department's Media Relations Division.
The woman brandished a gun during the argument and shot the man, Cooper said.
The woman fled before police arrived, and the man was taken to a hospital, where he died of his wounds.
Police located and arrested the woman in a car parked near the area of the shooting at about 7:30 p.m.. Her name was not immediately released.
A man at the scene who identified himself as her friend said she shot the man in self-defense,.
The man's name was not released, though he was described as being approximately 45 years old.
Copyright CNS - City News Service