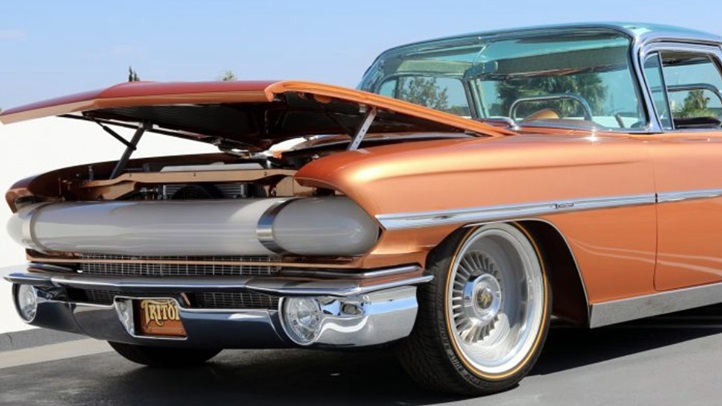 Pulling up alongside a dream machine at a stoplight can give a car connoisseur a few seconds of design-delightful bliss.
You can admire the automobile's sleek lines, and the way one window seems to flow into the next. You can appraise the eye-popping hue, and the handsome headlights, and, if you're lucky, you might even get a quick glance at the sumptuous interior.
But taking even the briefest of peeks under the work of art's shiny hood? That's never going to happen, not with a gorgeous vehicle you happen to pass by, for a moment, on the street.
Local
Local news from across Southern California
Fret not, however, for seeing what's under the hood, or rather 25 hoods, of some ultimate autos is in the works at the Petersen Automotive Museum over Labor Day Weekend.
True, most of the cars on display at the museum are typically shown with their hoods firmly clasped, but that won't be the case from Saturday, Sept. 3 through Monday, Sept. 5.
So what's on the wander-by roster of Hoods Up Day? The Miracle Mile car institution mentions that Buick, Bugatti, Tucker, Delahaye, Dodge, and Toyota will play a part of the revved-up line-up.
Expect an "intimate viewing of the complex, big block and alternative powered motors that power some of the rarest cars in the world."
What's the admission for this deeper look at what exactly makes an auto go from standing still to full zoom? The admission to the museum, which is fifteen dollars for an adult guest, $7 for guests ages 3 to 12.
It's not a separate ticket, in short, to visit Hoods Up Day. And you won't need a different ticket to eye the dozens of other wonders that call the recently redesigned museum home (including, yes, the 1981 DeLorean DMC-12 from "Back to the Future," another recent acquisition).
What makes a fine auto go, go, go? Hoods Up Day is on the way, lookie-loos.
Copyright FREEL - NBC Local Media