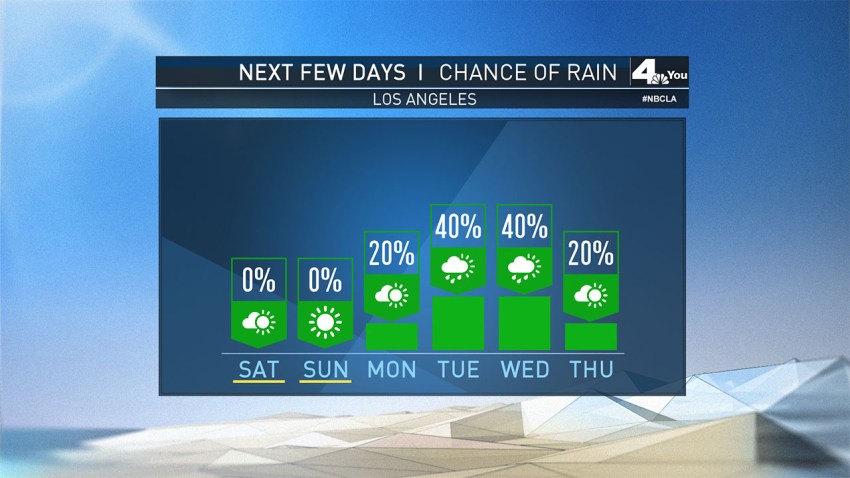 The last time we had measurable rainfall in LA was May 21st. After more than 100 days, rain is back in the forecast for the first week of October.
The chance of rain will increase late Monday and continue through Wednesday evening. Why the weather change? It has to do with the arrival of Hurricane Rosa and a separate area of low pressure that will follow.
Southern California isn't a stranger to Tropical storms, but they are very rare. In the past 160 years, Southern California has been hit by three tropical depressions, two tropical storms, and the only hurricane on record was in 1858 in San Diego, before hurricanes were given names.
The current path of Rosa takes the hurricane over the northern Baja peninsula on Monday evening. From there it will continue to travel towards the northeast into the desert southwest where flooding rains are possible. Although Southern California is not in the direct path, our chances for rain will increase. Expect showers with light to moderate rain from late Monday through Tuesday night.
But wait, there's more. By Wednesday, a separate area of low pressure will move onshore and bring additional rainfall. According to the most recent weather models, rainfall rates will be from .10" to 0.33" inches per hour and accumulations will range from .10" to .50". Higher amounts are possible for the mountains where accumulations will range from .50" to 1.50". Debris flows are possible if the heavy rain affects recent burn scars like the Holy, Cranston, and Valley fires.
Your commute could be impacted on Tuesday and Wednesday because of slick roads and some ponding of water. Stay tuned to NBC4 as the First Alert Weather Team continues to update the forecast.
Local
Local news from across Southern California