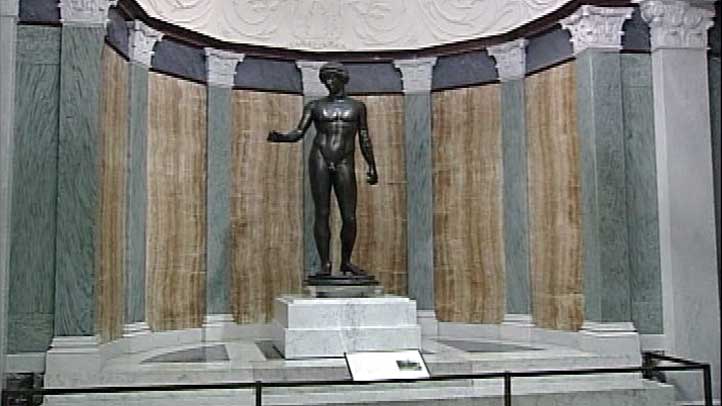 Getty Museum officials said Monday that they told an Italian lawmaker they can't enter into an agreement with him over a disputed bronze statue because the statue's future is tied up in Italian courts.
Gov. Gian Mario Spacca conducted a news conference for Monday to "detail his plan to resolve the dispute" over priceless antiquities allegedly looted for display, a spokeswoman for the state of Marcha announced. The plan was described as "an innovative peace treaty in the long-raging battle with the J. Paul Getty Museum over antiquities that Italy claims are rightfully theirs and were illicitly trafficked and sold to the Getty."
Getty spokesman Ron Hartwig said Monday he and two curators met Friday with Spacca and four others from the central Italian region. Spacca proposed an antiquities sharing agreement that would include the "Getty Bronze,'' also known as "Victorious Youth.'' Hartwig said they stopped the discussion before Spacca got to details on ownership.
Local
Local news from across Southern California
The bronze was not part of a 2007 pact in which Getty returned 40 looted or stolen items to Italy.
"We have not come to declare war on the Getty,'' Spacca said at Monday's news conference. "We are here to try to resolve the dispute in a way that will benefit this great museum, the people of Italy and, most important, art lovers around the world."
A spokeswoman for the Getty, Julie Jaskol, said Spacca toured the museum on the Malibu coast Friday.
"It was a friendly meeting and we were pleased that the president (governor) and his group were able to visit the Getty Villa," she said.
The Italian announcement comes several weeks after a centerpiece of the Getty Museum's antiquities collection, a statue called "Aphrodite," was shipped back to Italy after more than a decade on display at the "Getty Villa" museum in Pacific Palisades, near Malibu.
The iconic seven-foot Aphrodite statue was purchased by the Getty in 1988 for $18 million. It was a centerpiece at the Getty Villa and helped build the museum's reputation as a global cultural force.
But Italy claimed the statue had been looted, and sold by a shady art dealer to the Getty. Italian police escorted the 7-foot-tall, 2,300-pound limestone and marble sculpture back to Italy two weeks ago.
The "Statue of a Victorious Youth" bronze was discovered undersea by a fisherman in 1964, and made its way to the Malibu coast under mysterious circumstances.
Copyright CNS - City News Service