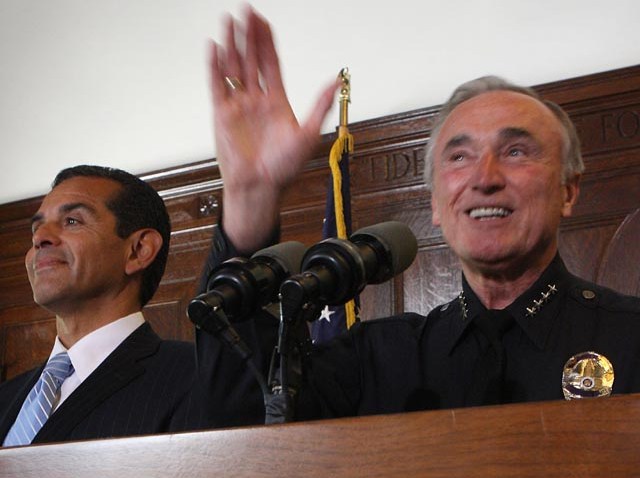 Interviews begin Wednesday to find a successor to Chief Bill Bratton.

Twelve candidates will go before the Police Commission this week to explain why they should be LA's next police chief.

The 12 candidates -- selected from a field of 24 applicants -- will be interviewed Wednesday and Thursday. Each interview will last about one hour.

Some of the contenders are already with the LAPD.

Under the city charter, the Police Commission, who represent the Los Angeles Police Department's civilian boss, must recommend three candidates to the mayor. The commission will probably make its recommendations by mid-November.

"It is a very, very weird process," one prominent LAPD official told the LA Times. "There are the people you absolutely must call and pay homage to -- the elected officials and whatnot. There are the people who could do you some harm and, so, who you need to neutralize. And then there are the people who can actually put in a good word for you with the mayor. You need to navigate all of these waters, and you need to do it skillfully."
Chief Bill Bratton will step down at the end of October. He has accepted a job in New York City, meaning the department will be without a chief for about two weeks.

"We wouldn't need it because we have a strong command staff," said commission president John Mack. "We don't expect the place to fall apart in two weeks."

Bratton has suggested that a member of his command staff be named his successor, saying "now is the time for an insider."

He has not publicly endorsed a candidate.
Assistant Chiefs Jim McDonnell, Earl Paysinger and Sharon Papa, and Deputy Chief Charlie Beck are among the top candidates.

Bratton, 62, is going to work for the Falls Church, Va.-based global security firm Altegrity, which specializes in bringing "professional, modern criminal justice systems" to post-conflict nations like Afghanistan and Iraq.

His nearly seven-year tenure in the LAPD has been praised for driving crime rates to historic lows. Among other achievements, he increased the department's ranks to 10,000 police officers and helped it achieve compliance with the consent decree imposed after the 1998 Rampart scandal.
Copyright Archive Sources