Jamie Foxx shared a warm father-to-father moment with the emotional dad of a driver the actor rescued from a burning wreck.
The Oscar winner and father met Tuesday at Foxx's home about 45 miles northwest of downtown Los Angeles, where just outside a day earlier Foxx and another good Samaritan braved flames to pull Brett Kyle from a mangled pickup truck that had crashed in a drainage ditch.
"Met the father of the young man from last night today," Foxx said in an Instagram photo showing the two men embracing. "This is all that matters. That a man, a son, a brother's life was spared last night. God had his arms wrapped around all of us...No heroes...Just happy fathers."
Foxx told reporters Tuesday that he rushed to the scene after hearing a crash and someone yelling outside of his Hidden Valley home Monday night.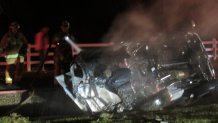 "I don't look at it as heroic, I just look at it as you just have to do something," Foxx said. "It all just worked out."
The California Highway Patrol said Kyle, 32, was drunk and speeding when he careened off road and into a drainage ditch. The truck rolled over several times before landing on its side and bursting into flames.
Local
Get Los Angeles's latest local news on crime, entertainment, weather, schools, COVID, cost of living and more. Here's your go-to source for today's LA news.
"I felt the heat was getting strong and hot in the cab," Kyle told NBC4 from the hospital. "I had the seat belt wrapped around my body or my neck and I wasn't able to get out."
Foxx and the other witness, who has not been identified, broke a window and cut the seat belt to free Kyle.
"I said, 'You've got to help me get you out, because I don't want to have to leave you,' and I said, 'You've got angels around you,'" Foxx recalled.
The actor said the flames reached inside the cabin just seconds after the rescue.
"Within five seconds later the truck goes up (in flames) - five to 10 - but we're over here in the grass," Foxx said.
[LA GALLERY] Southern California Rescues in 2016
Kyle was hospitalized with injuries that included a broken collarbone, punctured lung and third-degree burns.
"Just the fact that one human being is willing to help another one means a lot to me," Kyle said.
Outside the actor's home, Kyle's father, Brad, had tears in his eyes as he spoke with reporters about Foxx's actions.
"Whether the person's famous or not I'm so glad, I'm so happy," he said.
Foxx is a father to two daughters, one of whom he shared the spotlight with at the 2016 Golden Globes.
The actor and Kyle shared one more hug in front of news cameras before parting ways.
"You good?" Foxx asked.
"You bet I am," the father answered.