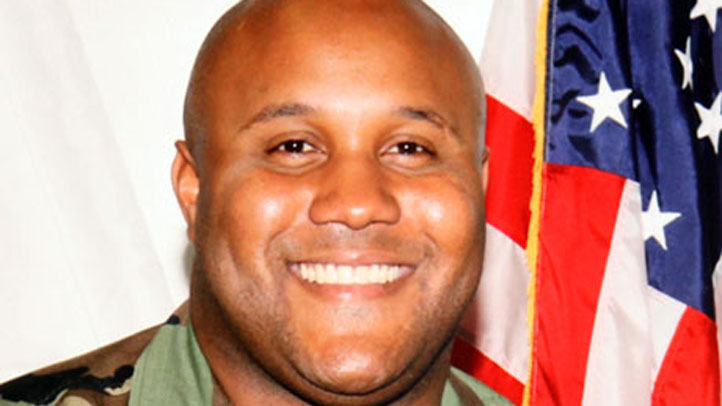 An admirer of ex-police officer Christopher Dorner – whose revenge-fueled killing spree left four people dead – was issued a restraining order Wednesday.
While Dorner was on his murderous rampage, Hashim Mwamba Bomani blogged threats against Los Angeles County's Child Support Services Department, which he apparently had been working with during an ongoing child support dispute.
Los Angeles Superior Court Judge Carol Boas Goodson granted a three-year order Bomani, 43, of Downey, that requires him to stay away from the department's headquarters and three of its members, including Director Steven J. Golightly.
Local
Local news from across Southern California
The department designated one person Bomani can contact regarding the child support dispute.
Bomani did not consent to the order and argued in a court filing that he had been mistreated by the department. Bomani did not appear in court Wednesday and could not be reached for comment.
In court filings, Golightly said he was worried about the escalating threats by Bomani, who he believes "is a former member of the military and may own guns."
Golightly said the department started monitoring Bomani's blog, "The Bomani Report," because of disturbing statements posted there.
On Feb. 10, while the Dorner manhunt was under way, Bomani posted messages such as "Christopher Jordan Dorner A Real American HERO," "666" and "NOW YOU MUST DIE," and listed Golightly's name among others in the department, documents state.
According to the website cited in the court documents, Bomani describes himself as a signal support specialist in the Army. He also writes that he's a qualified mental health professional and has taught elementary school children in the Los Angeles Unified School District. He refers to himself as "Hashim the Dream."
In court Wednesday, Goodson discussed the difficulty of the case because of the importance of balancing Bomani's rights to free speech with the safety of those who felt threatened.
Goodson said while she found his postings insulting and libelous, they didn't "rise to the level of a threat." However, Goodson added, "I'm concerned about this guy."
Golightly attended Wednesday's hearing and said he has worked in the child services field for more than 35 years but had never asked for such an order.
"We're used to threats and people being angry with us," Golightly said. "This is the only time I have felt personally threatened."
The Feb. 10 blog entry is written in all caps and is heavy on military jargon.
Bomani titles the post "CAPTAIN CHRISTOPHER DORNER YOUR KILL LIST HAS BEEN VERIFIED AND AUTHORIZE EXECUTE WITH EXTREME PREJUDICE" and he urges the fugitive officer to "stay alert...stay alive sir."
Multiple other posts criticize county officials and law enforcement officers. Some later show photos of officers who were killed by Dorner with "Target Neutralized" stamped over their photos in large red font.
In an online manifesto, Dorner said he would avenge his firing from the Los Angeles Police Department. During his rampage he killed four people, including two law enforcement officers and a newly engaged couple in their 20s.
The nearly weeklong manhunt ended on Feb. 12. Dorner's charred remains were found in a cabin near Big Bear after a deadly gunfight with officers in the mountain community.
Goodson said Wednesday that she fully expects to also be added to Bomani's blacklist after her ruling.
Copyright AP - Associated Press