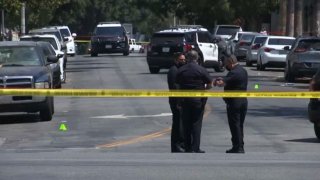 A man armed with a handgun was shot and killed by Los Angeles police Thursday in Koreatown, the LAPD says.
The shooting was reported at about 8 a.m. near Eighth and Berendo streets in the area west of downtown Los Angeles. Police told reporters at the scene that officers responded to the location after a report of an assault with a deadly weapon.
Responding officers encountered a man in his 30s armed with a handgun, and shots were fired during the confrontation, police said. It was not immediately clear whether the man fired his weapon.
No officers were injured.
A handgun was recovered at the scene.
Details about the assault report were not immediately available.