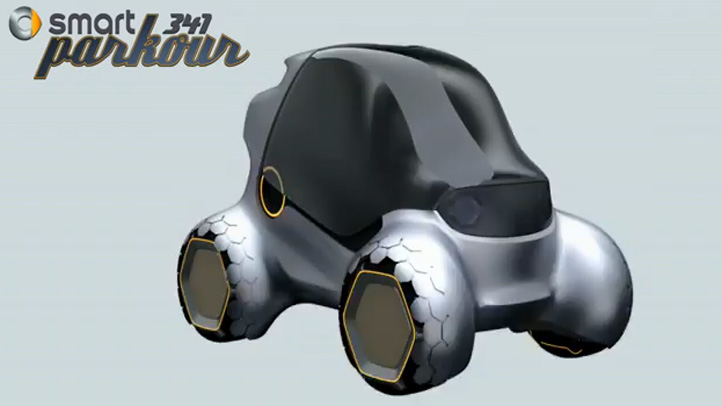 An intrepid reporter and her little car that could drive, park, climb and fly won this year's LA Auto Show Design Challenge.
LA Auto Show: Images, Debuts | Map: Exhibitor List
The competition is an opportunity for auto design studios to present their takes on the future of persona mobility. Past themes required designers to present a creative automotive concept, but the car's design was just one element of this year's challenge -- Hollywood's next movie car.

"Not only were studios tasked with designing a futuristic Hollywood vehicle, but also the complex plots within which they starred," said Chuck Pelly, of Design LA. "The Smart 341 Parkour captured the essence of the Design Challenge by combining innovation and functionality with an adventurous plot."

Introducing reporter Annie Angle and her versatile Smart 341 Parkour, stars of "Annie, Get the Grannies." The "Grannies" are robots that knit together frames in a Smart production plant. And, in Cantpark City, efficient use of parking space starts with their skilled stitching.

Annie sets out to discover the truth behind the missing robots. Journalistic glory is within reach, thanks to her car's three mobility modes -- park, drive, climb and hover, presumably to scan the streets below for stolen granny robots.

Park might sound the least exciting, but check out the video below to see how it's done. The LA Auto Show continues through Nov. 27.

Local
Local news from across Southern California