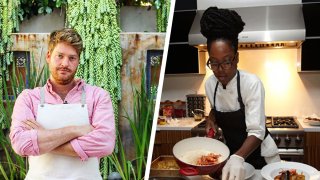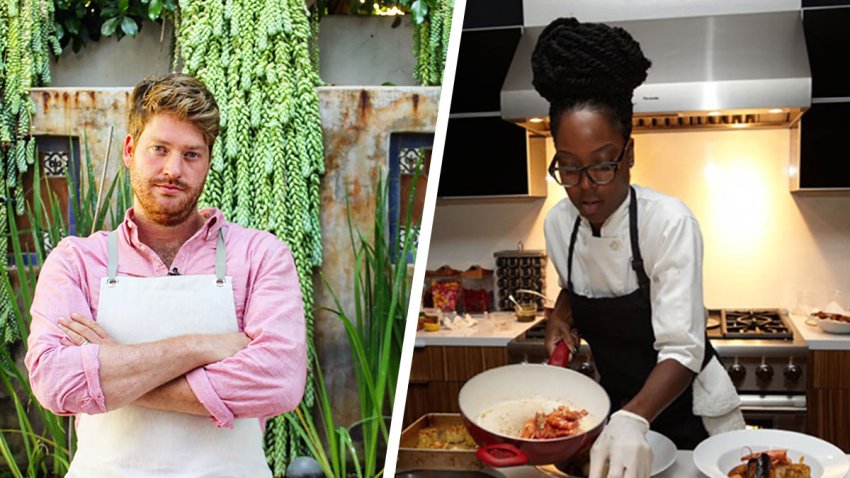 Private Chef Andrea Drummer meticulously crafts her ravioli by hand. She drizzles hollandaise sauce over crab cake Benedict. She makes a brûléed bread pudding with caramel sauce, chantilly cream and seasonal berries.

Her secret ingredient — cannabis.

"When I smell cannabis, I smell the possibilities of it," Drummer said.
Drummer is among a group of Los Angeles chefs preparing multiple course meals with cannabis at private dinners around Los Angeles.
She and those like her are carving out a niche, cashing in on a slice of the marijuana market as Proposition 64, the Adult Use of Marijuana Act, was passed by California voters in November and fully goes into effect on Jan. 1.
Take a Look at What These LA Chefs Are Cooking With Cannabis
These chefs stand behind the quality of their products and say they go to great lengths to ensure they're safe.
But county regulators are trying to figure out how to regulate them. They say they have to balance health and safety with current medical marijuana laws and the new recreational law.

"It is really complicated," said Joe Nicchitta, the coordinator of Los Angeles County's newly formed Office of Marijuana Management. "What is considered a private dinner? Is it a potluck? Are you selling tickets? It's not a one-size-fits-all approach. We're working to figure out what the appropriate regulations should be."

Nicchitta said he appreciates entrepreneurs getting into a new industry, but suggests potential diners research edibles, their effects on getting high and how to consume them safely before taking part.

"It's not our goal to shut down innovation," he said. "That said, we do need to apply our health code in a way that's safe."
Local
Get Los Angeles's latest local news on crime, entertainment, weather, schools, COVID, cost of living and more. Here's your go-to source for today's LA news.
Drummer was pulled into this career path after a friend said she needed to sell bruschetta that she had infused with Blue Dream — a strain with notes of blueberry and citrus that pair well with the dish.

"I'm very cognizant of the flavors of the bud," Drummer said.

Holden Jagger, chef and co-owner of Altered Plates, creates custom joint pairings for his private dinners. He smokes ingredients with cannabis, cooks infused dishes and treats weed as its own ingredient for small private meals and business events. He also serves as a gangier, pairing weed with plates, similar to a sommelier who specializes in wine.
With paired courses, his diners get an explanation of the dish, a whiff of the aroma and take a pull by breathing through the joint to taste the cannabis before smoking it.
"I am very much in the business of saying yes to my guests," Jagger said, adding that he will cook everything from a high-end meal to a summer barbecue if his diners request it.

Jagger, who grows his own pot, uses a strain called "In the Pines" to smoke shallots for a salmon creme fraiche dish, and salt cures and "quick-pickles" part of the male cannabis plant to serve on cheese plates.

"Cannabis is a vegetable," said Jagger, who worked at well-known LA restaurants including Craft, SoHo House and Maude before opening Altered Plates. "This is just another way to combine all my passions and distill them into something that I can share with people."
His guests pay up to $500 per dinner and are required to present a medical marijuana card.

"I want to play by the rules, I want a seat at the table when there is that seat to be had, and I don't want to get in trouble because I'm not participating in the right way," Jagger said.