Exactly one week after it started, the Rim Fire showed no signs of stopping as resources from around the region poured into Tuolumne County.
By Sunday, the fire had charred 133,980 acres - that's 209 square miles - and was just 7 percent contained, according to the incident Web page.
Calfornia fire officials say the fire is so large and is burning with such a force, it has created its own weather pattern, making it difficult to predict which direction it will move.
Local
Local news from across Southern California
"As the smoke column builds up it breaks down and collapses inside of itself, sending downdrafts and gusts that can go in any direction,'' CalFire spokesman Daniel Berlant told the Associated Press. "There's a lot of potential for this one to continue to grow.''
More than 5,500 homes are threatened and four were destroyed. Voluntary and mandatory evacuations were in flux late Saturday.
For some, the threat appeared to have lifted as evacuated residents from Highway 120 east to Buck Meadows and residents of Pine Mountain Lake were allowed to return to their homes beginning at 6 p.m.
CalFire said the fire remained fairly active overnight, especially on its eastern edge "with very active burning inclusive of rapid rates of spread, torching and spotting."
Crews reported significant progress along the western edge. Enough to put some crews into mop-up mode. "Good progress was made with constructing and securing lines along the southwestern, northwestern and northern portions of the fire," the incident page read. But even with that, CalFire was only reporting 7-percent containment.
This weekend the fire fight was focused on holding the fire east of the north fork of the Tuolumne River. Crews are also trying to strengthened fire lines above the community of Pine Mountain Lake to save home and along the eastern edge of the fire which has crossed into Yosemite National Park to save a "national treasure."
(See new fireline map below).
Resources on the fire lines were spreading thin. Gov. Jerry Brown announced the state had secured federal funds to help pay for the massive effort. from the Federal Emergency Management Agency.
Gov. Brown also declared a state of emergency in San Francisco late Friday because the wildfires have caused damage to electrical infrastructure serving the City and County of San Francisco. San Francisco has been forced to shut down two of its three hydroelectric power stations in the area, and further disruptions or damage could have an effect on the power supply.
In Gov. Brown's emergency declaration statement for San Francisco read in part that the fires "now threaten damage to property, equipment, and resources of the San Francisco Public Utilities Commission."
Brown declared it an "imminent threat to critical infrastructure assets."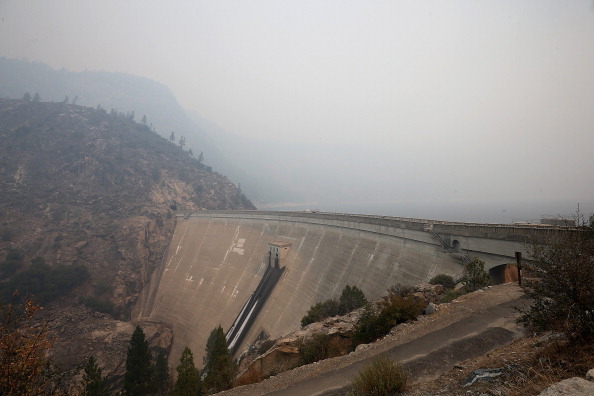 The fire threatens both power and water supply to San Francisco.
The city gets 85 percent of its water from the Yosemite-area Hetch Hetchy reservoir. So far, the water quality has not been impacted by the fire.
The Hetch Hetchy Reservoir is east of the fire area. There is fear that ash from the water could impact water quality or the water supply system.
Late Saturday, the San Francisco Public Utilities Commission reiterated that the fire has not interrupted normal water deliveries or impacted water quality from Hetch Hetchy Reservoir.
"The Hetch Hetchy Regional Water System continues to deliver high-quality water to 2.6 million water customers in San Francisco and throughout the Bay Area," the statement read.
So far, no one has been hurt and only 16 structures -- four of them homes -- have burned despite the massive size.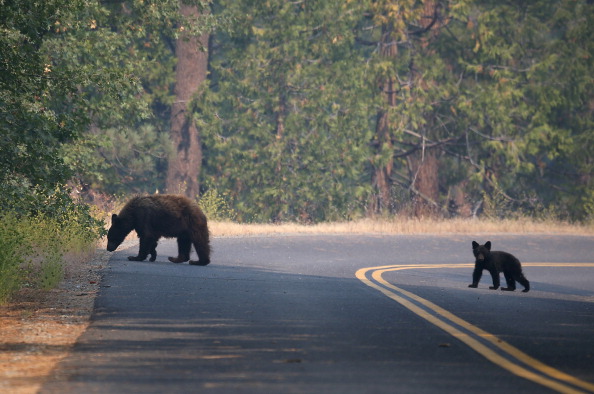 Still, the rugged terrain and hot weather conditions have proved to be terribly difficult for nearly 2,672 firefighters trying to contain the blaze located on the mountain rims of the Stanislaus National Forest.
"I'm a little shook up," said Groveland, Calif. resident Fred Faiella who had to find a safe place to sleep. "But it's in God's hands. I just gotta let what happens, happen."
Smoke From Fire Make Beeline to Reno
Dense smoke from major California wildfires continues to pour into the Reno area, causing event cancellations to mount and local health officials to expand pollution warnings into Tuesday.

Among the latest weekend events scrubbed were a fund-raising outdoor concert for cancer patients in Carson City, an outdoor family concert and a star-gazing party in the Minden area, and a Nevada-USF women's soccer game in Reno.

Care Flight air ambulance spokeswoman Temple Fletcher says the poor visibility also has prevented the Reno-based service from responding to some emergency calls across the region in the last couple of days.

The Washoe County Health District says the air quality index remained in the ``unhealthy'' range around Reno as it hit the 158 mark mid-Saturday afternoon, down from 200 on Friday.
Lisa Fernandez, Bay City News and the Associated Press contributed to this report.

More Bay Area Stories: